6 Upcoming DataHour Sessions! Mark Your Calendars Now!
Introduction
Looking to connect with the top minds in the field and deepen your knowledge of data tech? Get ready to accelerate your career in data tech! Introducing new sessions of February's DataHour series, an exciting series of expert-led webinars that delve into cutting-edge advancements in the field. A platform where you gain invaluable insights and hands-on experience, learning from top industry leaders who make even the most complex topics easy to understand. Whether you're an experienced professional or just starting out, join DataHour to connect with the brightest minds in the industry and take your knowledge to the next level. Through these webinars, you'll gain hands-on experience, deepen your understanding of the field, and connect with industry leaders.
In this blog post, we'll introduce you to a few exciting webinars that cover various topics related to data science and machine learning. Whether you're interested in understanding Microsoft Excel, learning about A/B  testing, or exploring RCNN Family for Object Detection, there is a webinar for you. You'll also have the opportunity to dive deep into the Power of Embedding, Data Preparation, and Feature Engineering in ML and get an introduction to Deep Learning with FastAI. So, let's dive in and explore what these webinars have to offer.

Who can Attend these DataHour Sessions?
Aspiring individuals who looking to launch a career in the data-tech industry, including students and freshers.
Current professionals seeking to transition into the data-tech domain.
Data science professionals seeking to enhance their career growth and development.
Table of Contents
DataHour: Solving Business Problems with Microsoft Excel
Funnel analysis is the process that maps the flow of website visitors to a set of specific funnel steps, which provides us with insights into the number of conversions or signups. Businesses use funnel analysis to trace the user journey throughout their website, optimize it, and see how many visitors end up in each funnel stage.
📅Date: 22nd February 2023
⌚Time: 07:00 PM IST
🔗Registration Link: Register Now
In this DataHour, Eshan Tiwari, Data Science Lead at Google, will demonstrate how to perform funnel analysis in excel to identify product improvement opportunities and provide feature development recommendations.
DataHour: A/B testing – Theory, Practice, and Pitfalls
Technology companies rely heavily on data and experimentation to improve their products or services. Although there are several experimental designs available, the most frequently used. One is the Randomized Control Design, commonly referred to as A/B testing.
📅Date: 22nd February 2023
⌚Time: 8:30 PM IST
🔗Registration Link: Register Now
In this context, Srimugunthan will explain various experimental designs and highlight the benefits of using a Randomized Control Design. Additionally, he will discuss the essential steps involved in setting up an A/B test, including power analysis to determine the test duration based on use cases.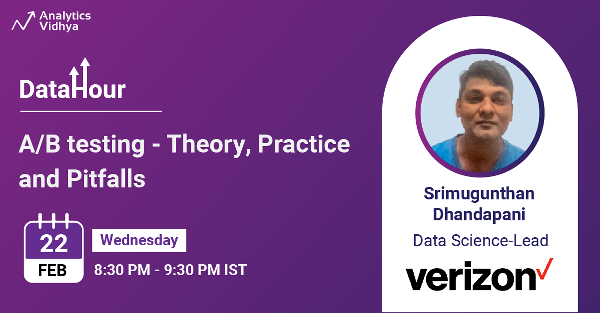 DataHour: Demystifying RCNN Family for Object Detection
CNN or RCNN stands for Region-Based Convolutional Neural Network; it is a machine learning model used for computer vision tasks, specifically for object detection.
📅Date: 23rd February 2023
⌚Time: 7:00 PM IST
🔗Registration Link: Register Now
In this DataHour, Jaiyesh will explain the progression of RCNNs, starting from RCNN to Fast RCNN and, finally, the state-of-the-art Faster RCNN, followed by a walkthrough of the Faster RCNN pipeline in python for training on a custom dataset.
DataHour: Data Preparation and Feature Engineering in ML
During the DataHour, Rishabh will cover the fundamental process of Machine Learning, including defining a problem, proposing a solution, constructing and transforming datasets, and a practice problem. Participants will gain insights into the necessary steps for identifying key components of a problem and selecting appropriate ML algorithms.
📅Date: 23rd February 2023
⌚Time: 8:30 PM IST
🔗Registration Link: Register Now
Participants will also learn how to construct datasets and transform data for ML problems, which can significantly impact the accuracy and effectiveness of the models developed. Additionally, the practice problem will allow participants to apply their newfound skills and knowledge.
DataHour: Unlocking the Power of Embeddings
During this DataHour, Priya will cover embeddings, dense numerical representations of real-world objects and relationships expressed as a vector. She will explain what an embedding is, how it encodes semantic relations, and how to use and train meaningful embeddings. Participants will clearly understand how embeddings work and how they can be utilized effectively in various applications.
📅Date: 24th February 2023
⌚Time: 7:00 PM IST
🔗Registration Link: Register Now
DataHour: Introduction to Deep Learning with FastAI
During this DataHour session, Victor will provide an in-depth demonstration of using the FastAI library to get started in Deep Learning. Victor will highlight the features and capabilities of FastAI and provide examples of what can be achieved with this library.
📅Date: 24th February 2023
⌚Time: 8:30 PM IST
🔗Registration Link: Register Now
Participants will gain insights into how to run notebooks and how to utilize the FastAI library for their own projects. Moreover, Victor will explain this library's simplicity and ease of use, which can be a significant advantage for those new to Deep Learning. By the end of the session, participants will have a solid understanding of the potential of FastAI and how to get started with it.
Conclusion
Don't miss out on this opportunity to take your tech journey to the next level. Register for DataHour sessions today and discover a world of possibilities. Have questions? Reach out to the speaker during the session or email us at [email protected]. Missed a session? No problem, catch up with recordings on our YouTube channel and resources sent to your registered email. What are you waiting for? Reserve your spot now!
Connect
If you're having trouble enrolling or would like to conduct a session with us. Contact us at [email protected].