Drive Business Success with Data Science Corporate Training
Introduction
Data science has become an essential element for success in today's fast-paced business environment. The demand for people with data science skills is increasing quickly, with an estimated 2.7 million new positions in the data industry anticipated to be generated by 2023. Corporate training in employee development and upskilling is now more important than ever as businesses depend more and more on data-driven decision-making to remain competitive. In fact, it is anticipated that the global market for data science training will reach $13.8 billion by 2026, demonstrating the enormous importance that businesses attach to this area.
This article explores the top data science training alternatives for companies and highlights the advantages of funding corporate training initiatives. Give your workers the fundamental abilities they need to foster creativity, increase productivity, and strengthen your company's position in a world that is becoming more and more data-driven.
Table of Contents
The Growing Need for Data Science Skills
Businesses across industries are utilizing data science approaches to extract worthwhile insights and make better decisions due to the emergence of big data. According to estimates, businesses using data-driven insights steal $1.8 trillion from their less informed rivals yearly. Data science expertise is becoming a requirement for businesses looking to keep their competitive edge rather than a luxury.
A team with good data science skills can considerably increase a company's productivity, decision-making skills, and innovation potential. Data scientists can analyze large datasets to find trends and patterns, allowing organizations to make data-driven choices, streamline operations, and create new goods and services. Companies are, therefore, actively working to upskill their staff and foster a more data-driven workforce. As a matter of fact, 87% of businesses feel that having strong data science and analytics abilities is key to their performance, making corporate training programs more and more critical.
In-House vs. External Data Science Corporate Training
The two main possibilities for data science training within organizations are internal and external. Both strategies have benefits and drawbacks, so it's critical to pick the technique that best suits the requirements and objectives of your firm.
Employing skilled data scientists or instructors to create and execute specialized training programs for your staff is a standard part of in-house training. This strategy has a number of advantages, including the opportunity to address specific skill gaps and content that are suited to your company's objectives. However, since it calls for allocating resources to curriculum development and hiring skilled teachers, in-house training can be time-consuming and expensive.
In contrast, external training entails collaborating with reputable organizations providing in-depth data science courses and programs. Employees can gain knowledge from experienced industry professionals by choosing this alternative, which may be more affordable. However, external training could not be as adaptable as internal programs and might not adequately address the particular demands of your business.
Consider aspects like your budget, the level of customization required, and the competence of your in-house staff when deciding on the appropriate training approach for your company.
Top Corporate Training Programs for Data Science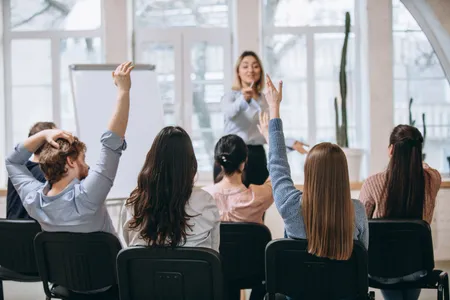 Numerous corporate training programs for data science are available, ranging from online courses and workshops to intensive boot camps. To help you make an informed decision, we have curated a list of top training options:
Benefits of Corporate Training for Data Science
Investing in corporate training for data science offers numerous advantages for both your employees and your organization as a whole. Some of the key benefits include:
Increased Productivity:  A skilled staff may use data science techniques to improve decision-making, streamline procedures, and spur innovation. This boosts production and efficiency, which helps the bottom line of your business.
Employee Retention: Offering opportunities for professional development to employees can boost job satisfaction and lower turnover rates. The fact that you spend money on data science training shows how much you care about your employees' professional development and how highly you regard their knowledge and abilities.
Business Growth:  Your business will be better able to take advantage of new trends and technology as your staff advances their data science abilities. This enables your company to maintain a competitive edge and expand in a world that is becoming more data-driven.
Adapting to New Technologies: With new tools and methodologies being developed constantly, data science is a rapidly growing topic. You can ensure that your business can adapt to these changes and maintain its position at the forefront of industry innovation by giving your personnel the most recent corporate training.
Case Study: Enabling India's Automobile Giant to Upsell and Cross-Sell Using Data Analytics
Client:  One of India's largest conglomerates, the client has over 50 enterprises under its wing. The client group's flagship company is a top maker of two- and three-wheeled vehicles and is India's third-largest motorcycle manufacturer.
Objective:  The client wanted to find new customers so they could upsell and cross-sell their vehicle products to them. They intended to use data analytics, machine learning, data engineering, and cloud platforms like AWS to do this.
Challenges: Included a dearth of data-driven insights, laborious manual processes, and trouble determining the appropriate customer groups. As a result, the business could not fully utilize its enormous consumer database.
The Solution Offered by Analytics Vidhya: In close collaboration with the stakeholders, Analytics Vidhya created a solution that was specifically tailored to meet their needs. The corporate training program was thoughtfully designed to equip more than 250 students with the abilities and information required to successfully utilize data analytics, machine learning, and cloud platforms.
Customized Corporate Training Program for the Client:  A thorough training course that covered a wide range of subjects, including data analytics, machine learning, data engineering, and cloud computing services like AWS.
Application-Based Learning:  Case studies, practical exercises, and examples from everyday life were all included in the curriculum to help students understand how to use these technologies in their jobs.
High Impact Outcome:  The students used their newly acquired knowledge to locate potential clients for upselling and cross-selling, significantly increasing sales and earnings for the business. This success story exemplifies the transformative potential of corporate data science training in generating measurable business results.
Analytics Vidhya has successfully trained over 3,500 learners across various geographies and industries through bespoke training programs customized and tailored for our clients. Transform your data science and analytics team with Analytics Vidhya's customized training solutions.  Learn more about Analytics Vidhya's Enterprise training here.
Conclusion
In conclusion, data science expertise is crucial for modern firms that want to survive and prosper in today's data-driven economy. Corporate training is necessary for companies wishing to equip their workers with these vital skills. You may choose the finest training solution for your organization by researching the training programs discussed in this article and speaking with professionals.
Are you prepared to equip your team with fundamental data science abilities? With the help of Analytics Vidhya's corporate training programs, start your company down the path to a more data-driven future. With customized content and qualified instruction, your staff will be well-equipped to drive innovation and success in the big data era.