What is Data Journalism all about?
Prateek Majumder
— Published On January 31, 2022 and Last Modified On March 15th, 2022
This article was published as a part of the Data Science Blogathon.
Introduction
Data journalism is a type of journalism in which reporters create stories using massive datasets. This reflects the growing importance of numerical data in the production and dissemination of information, as well as the growing connection between journalists and professions like design, computer science, and statistics. Through the use of infographics and data visualizations, data journalism aids in the telling of a complicated tale.
Data all around us can be expressed in numbers. The words "data" and "journalism" are both problematic. Some individuals consider "data" to be any set of numbers, most frequently compiled on a spreadsheet. That was pretty much the only type of data journalists worked with 20 years ago. But we now live in a digital age, where numbers can be used to express virtually everything (and almost anything). Through appealing infographics, data journalism may assist a journalist in telling a complicated narrative. Data may be the source of data journalism, or it can be the instrument used to tell the story—or both. It should be handled with suspicion, just like any other source, and we should be aware of how it might influence and limit the tales that are generated using it, just like any other instrument.
A simple example of Data Journalism- Gapminder: Wealth & Health of Nations
GapMinder is not a standard news agency; instead, it attempts to disseminate world facts and data. Audiences can simply watch the growth of any country in the globe using their creative and engaging website, which includes statistics such as Gross Domestic Product (GDP), infant mortality, and more. Visitors may also put many nations on the graph at the same time to see how much of a "gap" exists between them.
This is an example of good data journalism where data and visuals are used to explain the story.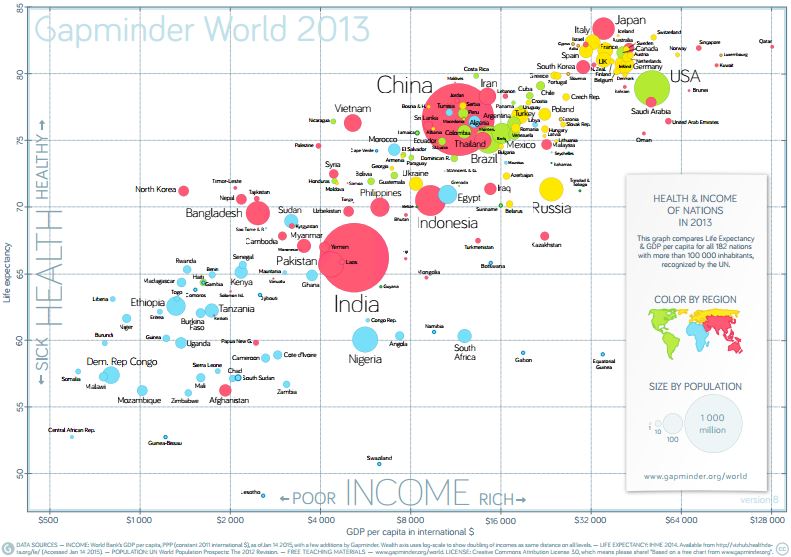 ( Image Source: https://nocodewebscraping.com/data-journalism-examples/ )
Also, you can visit the above link to see more examples of great data journalism.
Why is Data Journalism Important?
Data journalism can bring scientific discoveries to the forefront of a narrative and make them accessible to readers, whether in the form of a static graphic, an interactive feature, or even a little additional analysis to offer context to a breaking news report.
The press is under attack. Media Houses and News Agencies used to rely on being the only ones using technology to grow and share what happened overnight. The printing press acted as a point of entry. Newspapers would be used if someone wished to reach the residents of a city or region the next morning. This epoch has come to an end.
Today, news reports come in as they happen, from a variety of sources, eyewitnesses, and blogs, and what has happened is filtered through a massive network of social connections, ranked, commented on, and, more often than not, ignored.
It is for this reason that data journalism is so crucial. The usefulness of gathering, sifting, and visualizing what is going on beyond what the eye can perceive is increasing. The orange juice you sip in the morning, the coffee you make: there are unseen linkages between these things, other people, and you in today's global economy. Data is the language of this network: little bits of information that, while not always significant in a single instance, can be extremely valuable when seen from the appropriate perspective.
Why Data?
By utilizing data, journalists' primary focus moves from being the first to report to being the ones to explain to us what a certain development could truly signify. There is a vast choice of themes to choose from. The next financial catastrophe is already underway. The economics underpin the items that we utilize. Misappropriation of finances or political gaffes, presented in a compelling data visualization that leaves little space for debate.
This is why data should be viewed as an opportunity for journalists. They can, for example, show how an abstract danger (such as unemployment) impacts people differently according to their age, gender, or education. Data may be used to turn something abstract into something that everyone can comprehend and connect to.
They may deconstruct the background of a complicated event, such as a riot or a political discussion, expose errors, and assist everyone in seeing potential solutions to complex issues.
Developing skills in data searching, cleansing, and visualization is also beneficial to the information gathering industry. Journalists who learn this will find it liberating to write pieces based on facts and observations. Instead of guessing and seeking quotes, a journalist may create a solid viewpoint based on evidence, which can have a significant impact on journalism's function.
Finding the Right Data
Finding a dataset to examine is the first step in every data narrative. The findings section of any publication that you feel delivers an engaging tale is a natural source for scientific writers. Consider if the data offers a compelling story when evaluating a possible dataset for use in a project.
Working with data is like venturing into uncharted land. Raw data is perplexing to the eyes and intellect at first glance. Such information is cumbersome. It's difficult to get the right form for visualizing. It takes seasoned journalists with the stamina to look at frequently complicated or uninteresting raw data and uncover the hidden story inside.
Data Journalism Examples
Let us look at some good data journalism examples.
Times of India GDP growth:
A Times of India visualizes the GDP rate in India in a great way.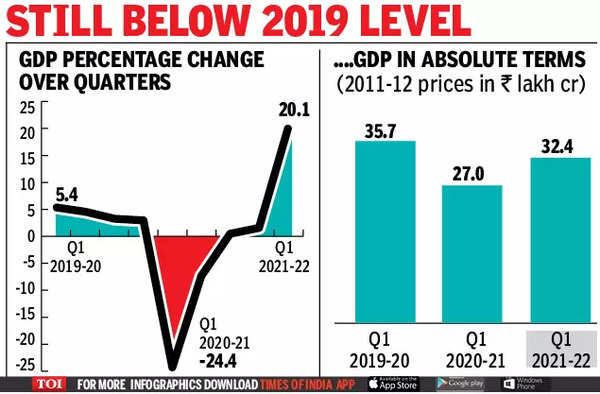 ( Image Source: https://timesofindia.indiatimes.com/business/india-business/gdp-growth-in-q1-records-20-1-recovery-on-low-base/articleshow/85818730.cms)
Anyone who sees this visual will be able to understand the whole scenario without fail.
There is also an infographic comparing various sectors.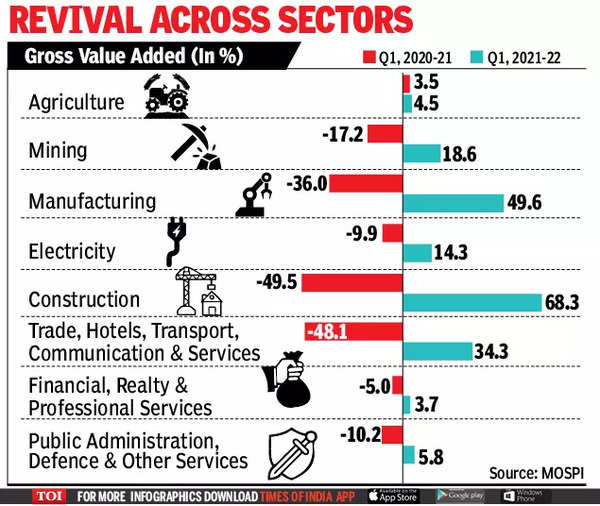 ( Image: https://timesofindia.indiatimes.com/business/india-business/gdp-growth-in-q1-records-20-1-recovery-on-low-base/articleshow/85818730.cms)
This visual shows the rates for each sector. Using a great visual like this makes it easier for readers to understand what is happening.
The Airbnb effect in San Francisco:
Done by the San Francisco Chronicle, this article does a study on various Airbnb listings in SF. It is an interesting case of Data Journalism. They raise questions regarding the housing market, hotels, and much more. Do have a look.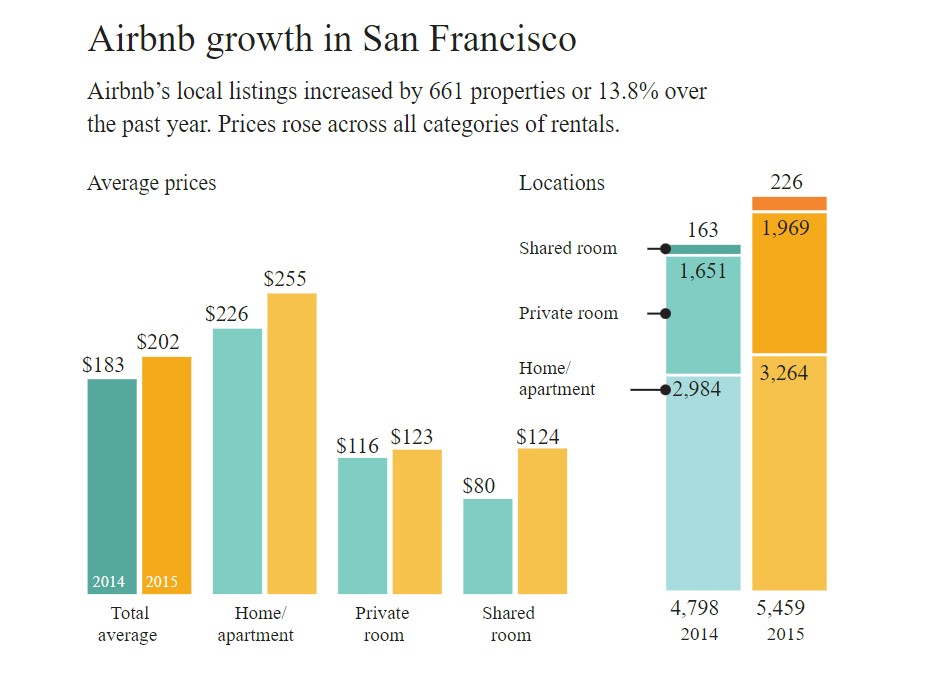 (Image Source: https://www.sfchronicle.com/airbnb-impact-san-francisco-2015/)
Covid: Twelve charts on how Covid changed our lives (BBC):
Since the outbreak of the coronavirus pandemic, life has changed radically. There has been a huge human and financial cost, and the consequences have been felt in a variety of ways. BBC made 12 interesting visuals regarding how Covid changed lives.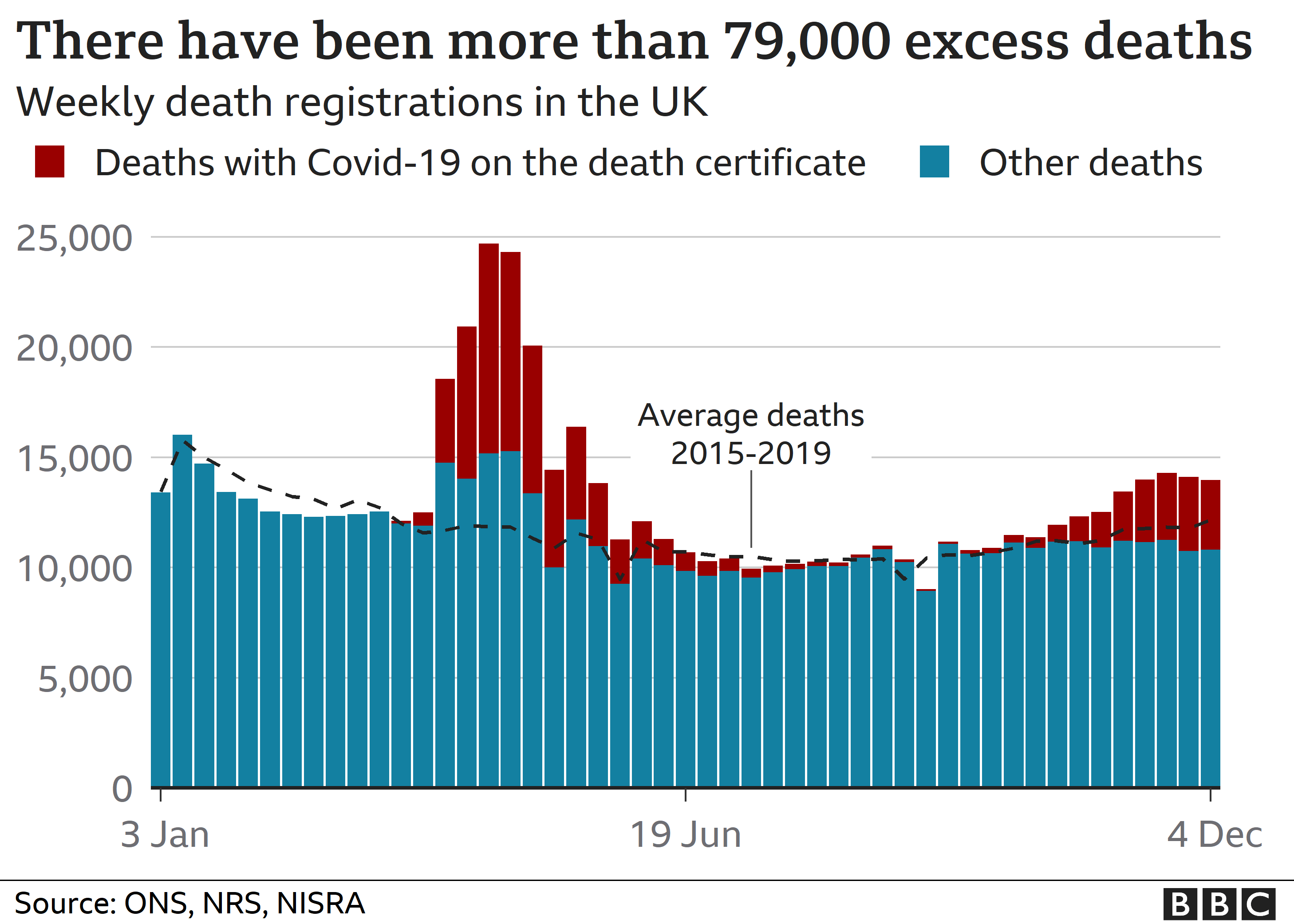 (Image: https://www.bbc.com/news/uk-55214991)
Covid deaths have increased, and this visual with its color theme is clearly able to explain that.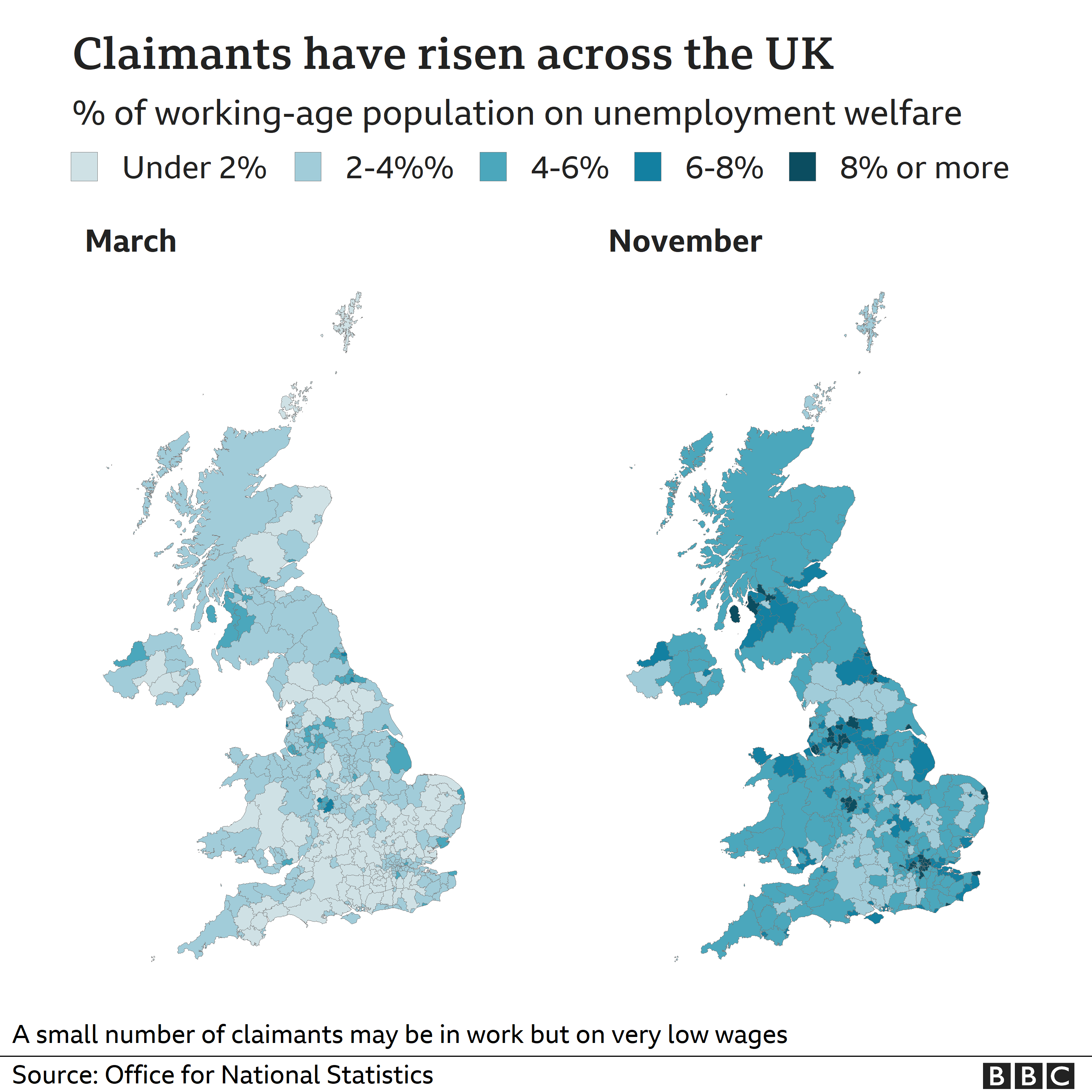 ( Image: https://www.bbc.com/news/uk-55214991)
The number of people claiming unemployment welfare increased. Covid took a toll on jobs and people without jobs started claiming unemployment benefits.
Check the article for more visuals and infographics.
These were some examples of great Data Journalism.
Adapting to Data Journalism
In a time when traditional journalistic skills aren't enough, data journalism is a new set of abilities for accessing, interpreting, and visualizing digital sources. It's not meant to be a replacement for traditional journalism, but rather a supplement to it.
Journalists may and must get closer to their sources at a time when sources are moving digital. The Internet has brought up possibilities that are well beyond our current comprehension. Data journalism is only the beginning of our efforts to adapt our traditional methods to the internet world.
For news organizations, data journalism fulfills two crucial functions: identifying original stories (not from news wires) and performing the watchdog job. These are key aims for newspapers to attain, especially in times of financial difficulty.
Conclusion
Journalism that is data-driven is the way of the future. Data literacy is required of journalists. It used to be that you got tales by talking with strangers in bars, and it still could be that way on occasion. But now it'll also be about combing through data and arming oneself with the skills to analyze it and find the intriguing bits. And, keeping things in context, assisting people by recognizing how everything fits together and what's going on in the country.
While data journalism now focuses on citing and connecting to data sources, we are heading toward a future where data is seamlessly incorporated into the fabric of media. Data journalists play a critical role in lowering the barriers to understanding and digging into data, as well as boosting data literacy among their readers on a large scale.
The media shown in this article is not owned by Analytics Vidhya and are used at the Author's discretion.