Differences Between Web 2.0 and Web 3.0
Amey Band
— Published On June 20, 2022 and Last Modified On July 12th, 2022
This article was published as a part of the Data Science Blogathon.
Introduction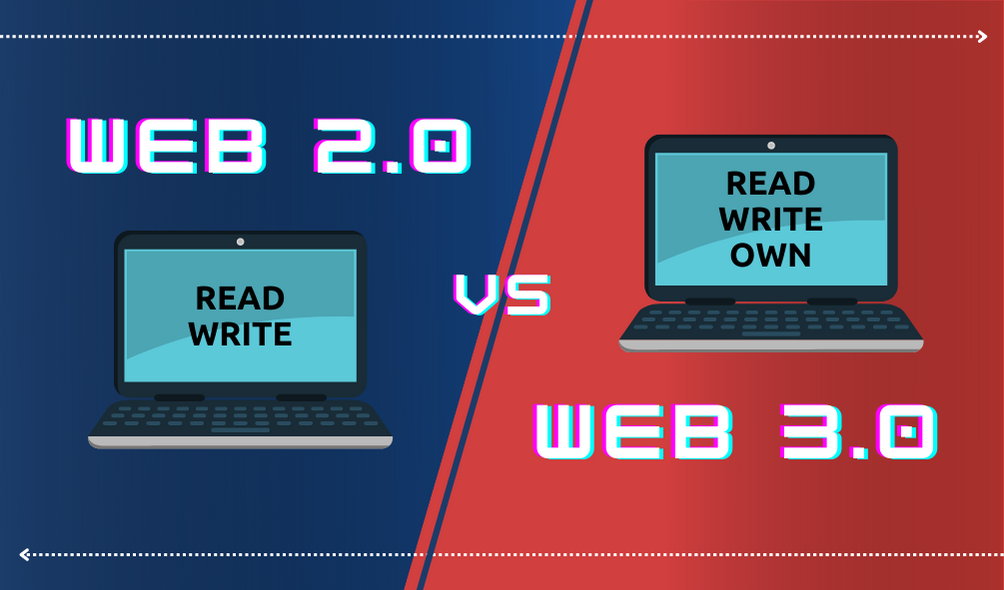 If you have been paying close attention to the blockchain industry, then you have undoubtedly been familiar with the words "Web 2.0" and "Web 3.0." There's a good chance that you're confused about the precise meaning of these phrases and how they relate to blockchain technology. Before it got to where it is now, the internet had to pass a lot of important milestones on its way to becoming what it is today. Both Web 2.0 and Web 3.0 are generations of internet services, and they differ significantly in terms of the ways in which consumers engage with the internet. As a result, people are eager to learn the distinctions between Web 2.0 and Web 3.0 in order to understand why they need Web 3.0. The following discussion will assist you in learning, in more depth, the distinguishing characteristics of Web 2.0 and Web 3.0. If one had a comprehensive knowledge of both web 2.0 and web 3.0, they would have a perfect basis for contemplating the differences and similarities between web 2.0 and web 3.0.
What is Web 2.0?
In the context of Web 2.0, the internet has undergone a paradigm change in its usage. Web 2.0's interactivity, social connectedness, and user-generated content have totally supplanted Web 1.0's static websites during the last 15 to 20 years. Web 2.0's unprecedented reach has led to an explosion of user-generated material, which can now be seen by millions of people across the globe practically in a second.
If you want to get a comprehensive understanding of the differences between Web 2.0 and Web 3.0, the best way to start is with Web 2.0. It is a reference to the second generation of internet services, which put an emphasis on providing users with the ability to interact with material that is hosted on the web. Alongside improvements in interoperability and usability for end-users, the Web 2.0 movement encouraged the expansion of user-generated content. When it comes to the second generation of the web, changing any of the technical requirements is not a priority. On the other hand, it places an emphasis on modifying the layout of websites as well as the methods in which they are used. Because Web 2.0 encouraged users to collaborate with one another and communicate with one another in P2P transactions, it paved the way for the development of e-commerce and social media platforms.
In order to develop Web 2.0 applications, web browser technologies are required, and these technologies include the AJAX and JavaScript frameworks. In recent years, these frameworks have emerged as a highly popular means for developing web 2.0 applications.
Features of Web 2.0
It allows free information sorting, allowing users to obtain and categorize data.

Web 2.0 allows access to web content via TVs, mobile devices, and multimedia consoles.

It promotes user review and online discussion as information routes.

Second-generation internet services emphasize dynamic content and user response.

Web 2.0 is a participatory social web. Users may now create and share responsive content and collaborate. Web 2.0 encourages the establishment of new online communities.
What is Web 3.0?
It is a reference to the progression of web utilization and interaction, which includes transforming the internet into a database through the use of distributed ledger technology. This data can then be used to assist in the creation of smart contracts that are tailored to the requirements of each individual user. Web 2.0 may provide the impression of being a more developed approach to the internet; nonetheless, it still has a lot of drawbacks. Where do you stand with regard to the safety of your private information? In Web 2.0, authorized institutions are given power over the data of individual users, particularly as a result of the need for trusted intermediaries. In the event that two parties want to carry out a transaction but do not know or trust one another, the only option available to them is to depend on third parties who are respected and reliable. Having control over the data storage and administration, however, allows the middleman to increase their hold on the users. In addition, the use of centralized authority during times of crisis has never been successful, which is another argument in favor of decentralization.
The aim of Web 3.0 is to organize the information in a more logical and coherent manner. The third generation of the web makes use of an advanced metadata system. This version of the web is sometimes referred to as the semantic web. The metadata system provides assistance in structuring and organizing all different kinds of data in order to make it accessible for both humans and computers.
Features of Web3.0
Web 3.0 makes use of artificial intelligence in order to provide accurate results in a more expedient manner while also providing access to real-time insights.

Users are also given the ability to take advantage of the potential offered by 3D images and graphics thanks to Web 3.0.

Semantic Web functionality is another key component of Web 3.0. It suggests that Web 3.0 might be used to help people grasp what words imply. Consequently, both people and machines will be able to quickly access information in Web 3.0.

Web 3.0 also exemplifies the significant quality of increased privacy and security. This quality may be found in Web 3.0.

The differences between web 2.0 and web 3.0 would also concentrate on user data and identity protection. In order to protect user identity and data, Web 3.0 makes use of distributed ledger technology and encryption to provide enhanced authorization methods.
Web 2.0 vs. Web 3.0
1. Ownership
An unparalleled level of control over your digital assets is conferred to you through Web3. Take, for instance, the fact that you are now participating in a web2 game. If you pay real money for an item inside the game, it will be permanently associated with your user account. If the developers of the game decide to delete your account, you will not be able to retrieve these things. Alternately, the value that you have placed into your in-game things will be forfeited if you quit playing the game.
Web3 enables direct ownership to be taken via the use of non-fungible tokens (NFTs). Your ownership of the game cannot be taken away by anybody, not even the developers of the game themselves. In addition, if you decide to quit playing the game, you may recuperate the value of the virtual objects you have accumulated by selling, trading, or exchanging them on open marketplaces.
2. Native Payments
Because its payment infrastructure is dependent on banks and payment processors, Web2 cannot accept payments from people who do not have bank accounts or who happen to be located in a nation that cannot accept their payments. Tokens like ETH and SOL are used by Web3 in order to fulfill its mission of enabling users to transfer money directly within the browser without the requirement for a trusted third party.
3. Transparency
The main goal of Web 2.0 was to bring people together around the data they were interested in. Web 3.0 combines this data in meaning while increasing trust in information thanks to its well-known decentralization. As a result, the communities that organically formed around Web 2.0 collapse as Web 3.0 personalizes information and expands possibilities and rights. Web 3.0 allows you to keep track of your own data. Issues of trust aren't as widespread as they were in Web 2.0, when major businesses had complete control over our personal information.
4. Driving Technologies
AJAX and JavaScript, together with CSS3 and HTML5, are the ones that come up most often when discussing Web 2.0 technology. And then there was a surge in the development of artificial intelligence, which could not but affect Web 3.0. Machine learning, deep learning, the semantic web, and decentralized protocols are some of the cutting-edge technologies that are powering Web 3.0.
5. Types of Applications
Podcasts, blogs, and video hosting websites are examples of Web 2.0 applications. In a broad sense, the terms "self-production of content" and "user communication" may be used to refer to almost any kind of information. These will be decentralized apps (dApps) that are driven by AI and ML for Web 3.0. Examples of these include multi-user virtual worlds, 3D portals, and integrated games.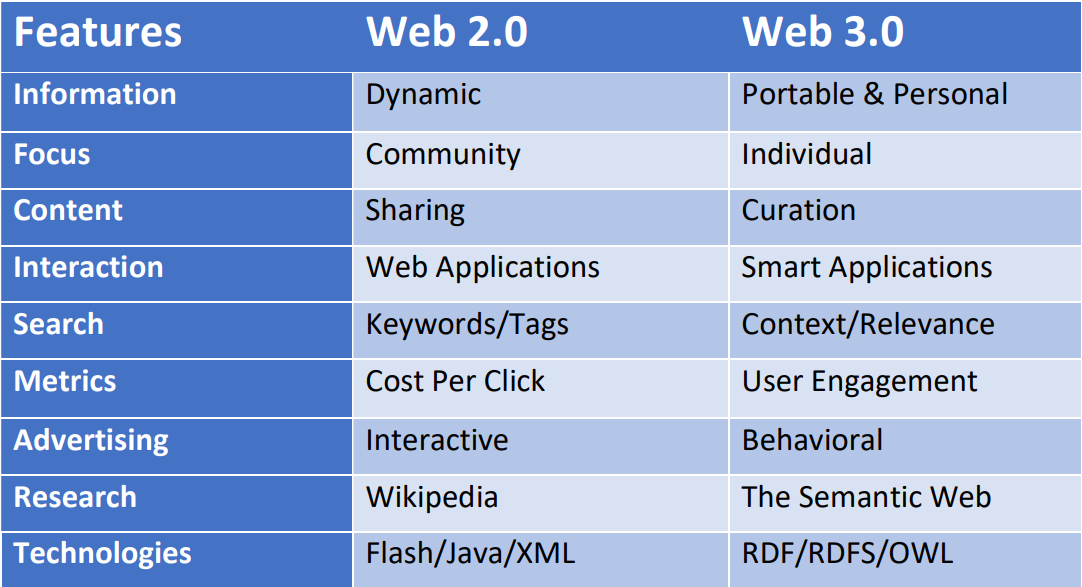 Conclusion
It is too soon to put Web 2.0 out of its misery because, despite the fact that Web 3.0 represents a significant advance in technology, it still has several shortcomings. The two approaches are now working together in perfect harmony. Even if the second iteration (Web 2.0) still has the upper hand, Web 3.0 is getting closer all the time. It offers a potentially fruitful infrastructure that is essential for the interaction between humans and machines. First and foremost, Web 3.0 has enhanced protections for users' privacy, trust, and security. The term "Web 3.0" is also often used to refer to the "decentralized web," which will be built almost entirely on top of decentralized protocols. On the other hand, the majority of online apps that we use now still employ Web 2.0 as their primary base.
The media shown in this article is not owned by Analytics Vidhya and is used at the Author's discretion.