Top Ten YouTube Channels On Data Science
Shweta Rawat
— Published On October 15, 2022 and Last Modified On November 9th, 2022
Introduction
One of the most crucial and in-demand talents in 2022 is Data Science. To accommodate this need, more and more businesses are starting to offer boot camps while universities are creating new courses. However, tons of resources are available over the internet for free, and deciding where to go to find the best resources and the appropriate material can be challenging.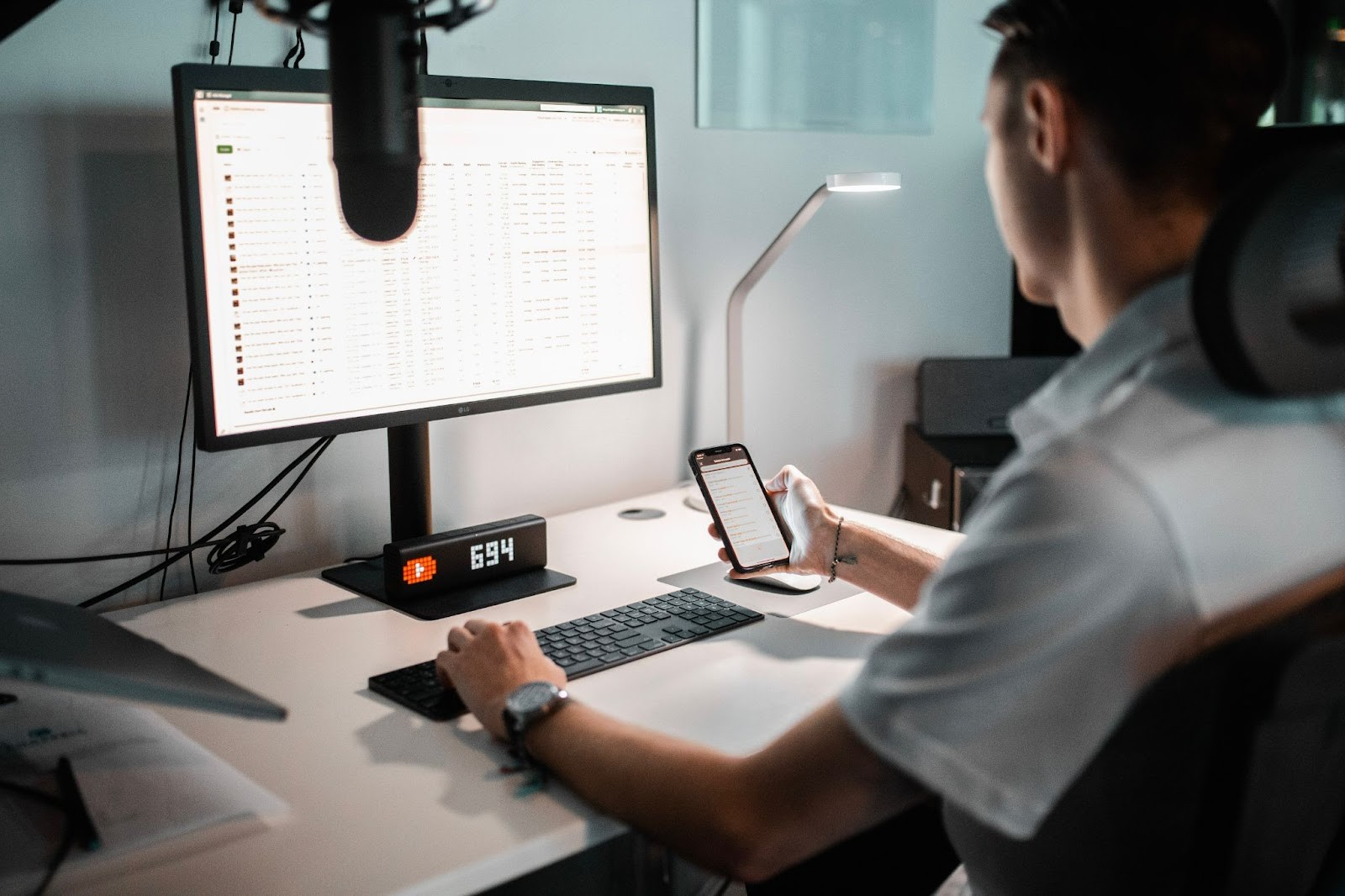 So, we bring you the top ten highly engaging YouTube Channels that provide free educational material.
Here are the top Data Science YouTube channels from thousands of YouTubers based on their content subscribers, views, video counts, and relevance.
Table of Content
| | | | | | |
| --- | --- | --- | --- | --- | --- |
| S. No. | YouTubers | Uploads | Subscribers | Video Views | Country |
| 1 | | 102 | 1.91M | 14,54,97,327 | US |
| 2 | | 1,254 | 1.15M | 10,42,96,949 | US |
| 3 | | 750 | 1.06M | 9,27,70,849 | CA |
| 4 | | 230 | 982K | 7,69,37,648 | US |
| 5 | | 1,482 | 643K | 6,04,63,035 | IN |
| 6 | | 219 | 789K | 4,03,05,708 | US |
| 7 | | 269 | 268K | 2,39,60,208 | US |
| 8 | | 209 | 257K | 1,07,36,900 | BG |
| 9 | | 291 | 133K | 34,23,612 | TH |
| 10 | | 146 | 74.6K | 19,75,263 | IN |
List of Top 10 Data Science Youtube Channels
Joma Tech is the right choice if you are currently on your data science journey but need some guidance on the industry and current market trends. Joma has worked with Big Tech Companies like Facebook, LinkedIn, Microsoft, etc.
He is a Complete Entertainment Package. Joma loves Technology and Content Creation. You will find his videos quite Engaging. He joined YouTube on August 31, 2016, having 1.91M subscribers.
He provides information on the hiring process and the actuality of what you will be doing as a Data Scientist, Engineer, etc.
Harrison Kinsley started a YouTube channel called Sentdex. Harrison has over a million subscribers who enjoy his videos for their educational content and personable attitude.
Sentdex focuses on subjects related to Python programming, machine learning, and data visualization, such as matplotlib plots in Python and using the Seaborn Python library.
This channel is a must-watch because it strongly emphasizes Python programming, machine learning, and data visualization themes. Harrison has a very lucid speaking style and makes complex ideas simple to comprehend.
The channel primarily concentrates on Python programming, with some PyGame (set of Python modules designed for writing video games) creation, machine learning courses, and JavaScript combined with a few frameworks.
The channel aims to provide you access to free resources to learn how to program and explore the field of data science and engineering, with a concentration on Python and JavaScript. Tech with Tim aims to produce the most excellent programming and tech videos online.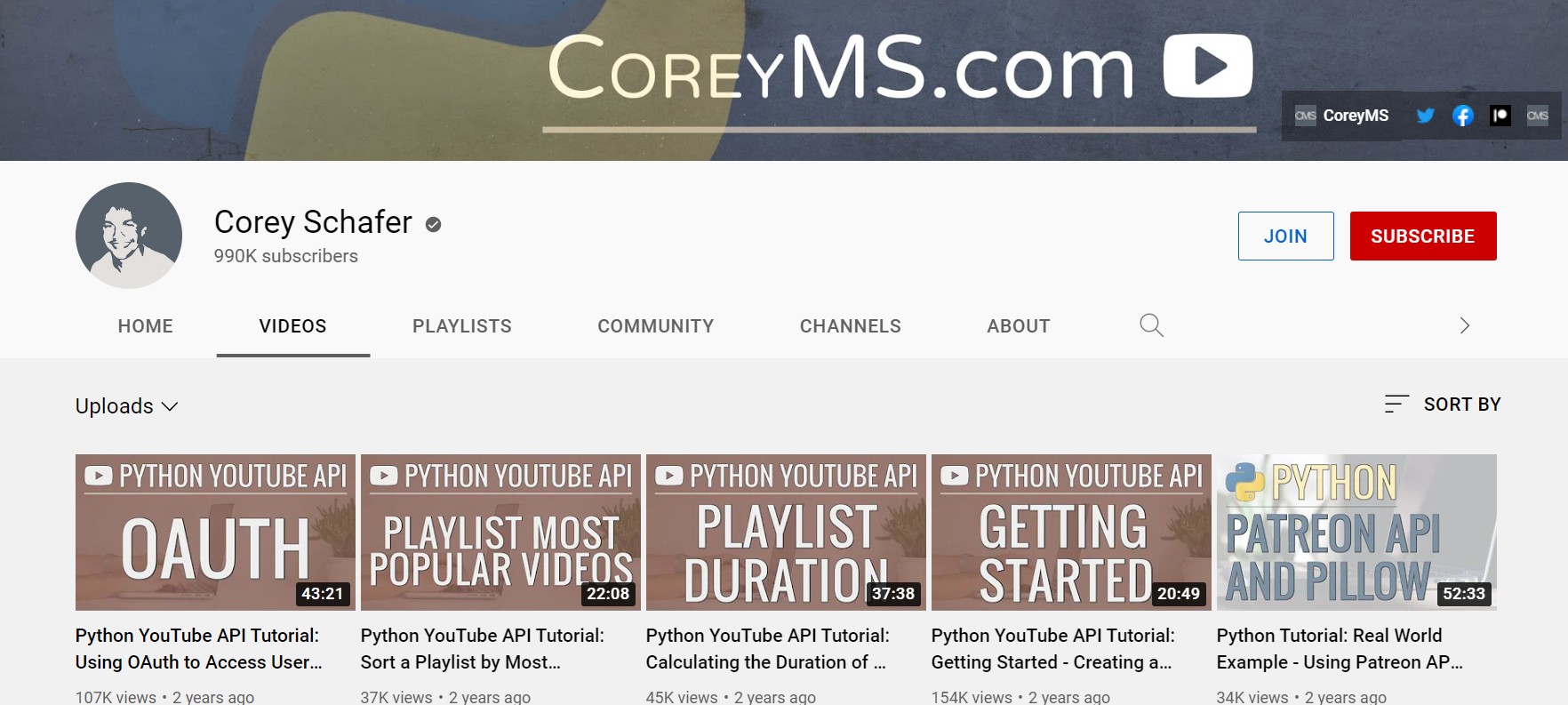 Corey Shafer is a Data scientist and software engineer. Over 983K people subscribe to his channel and watch his videos, as Corey's YouTube channel has engaging material and an approachable demeanor.
The focus on practical issues, such as developing an image recognition system for animal identification or utilizing machine learning models to predict the price of Bitcoin, sets this channel apart from the rest.
Out of many playlists, Corey's "Data Science from Scratch" series walks you practically through the fundamentals of data science, which is a must-watch for my data science beginner.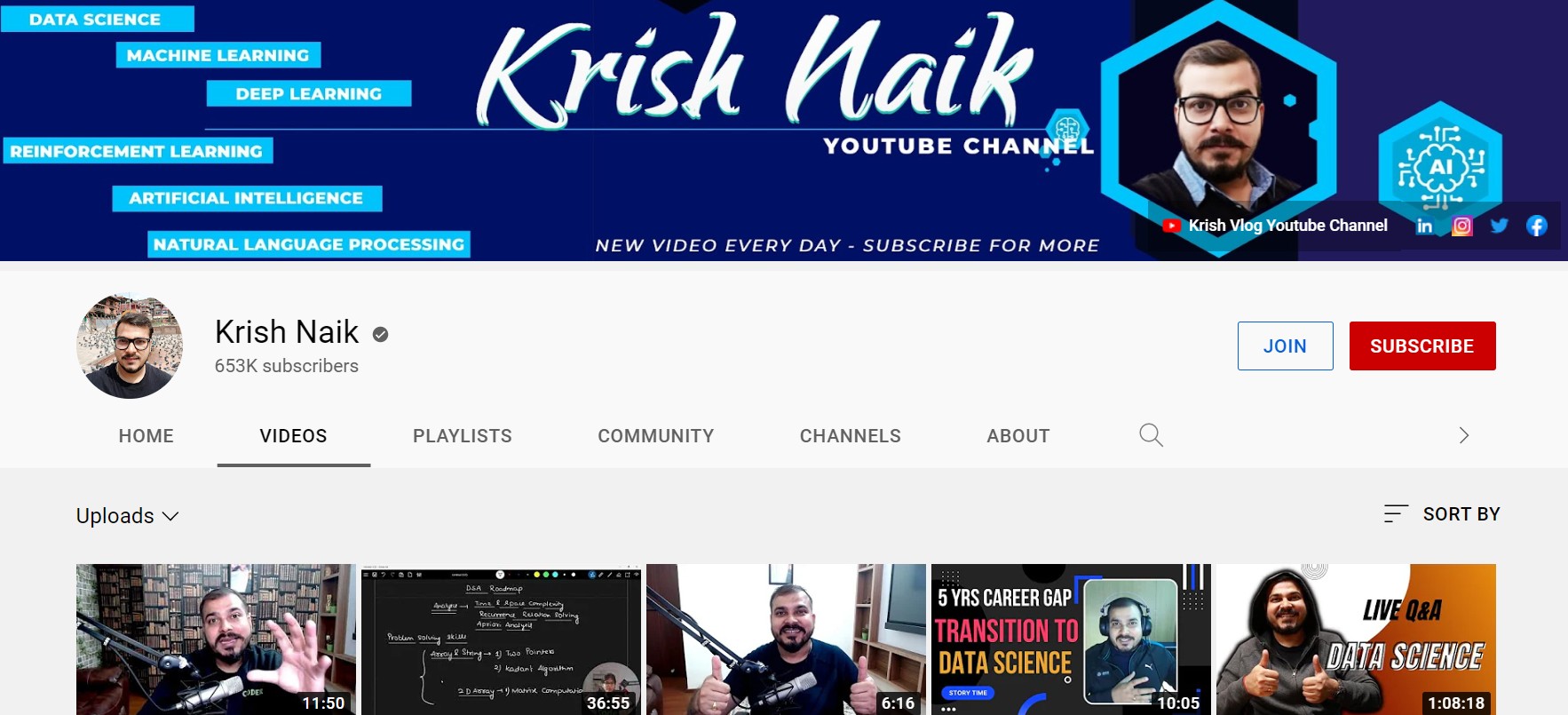 Co-founder of iNeuron, Krish Naik, has over ten years of experience in computer vision, deep learning, and machine learning. On February 11, 2012, Krish Naik joined YouTube. As of today, the YouTube channel has over 644K subscribers.
In addition to discussing the theory and applications of Data Science, Machine Learning, Deep Learning, and other topics, Naik also offers advice and direction on how to join and advance your career in the field.
His YouTube channel offers three distinct membership levels for DataScience Materials, Data Science Guidance, and Projects Live DataScience.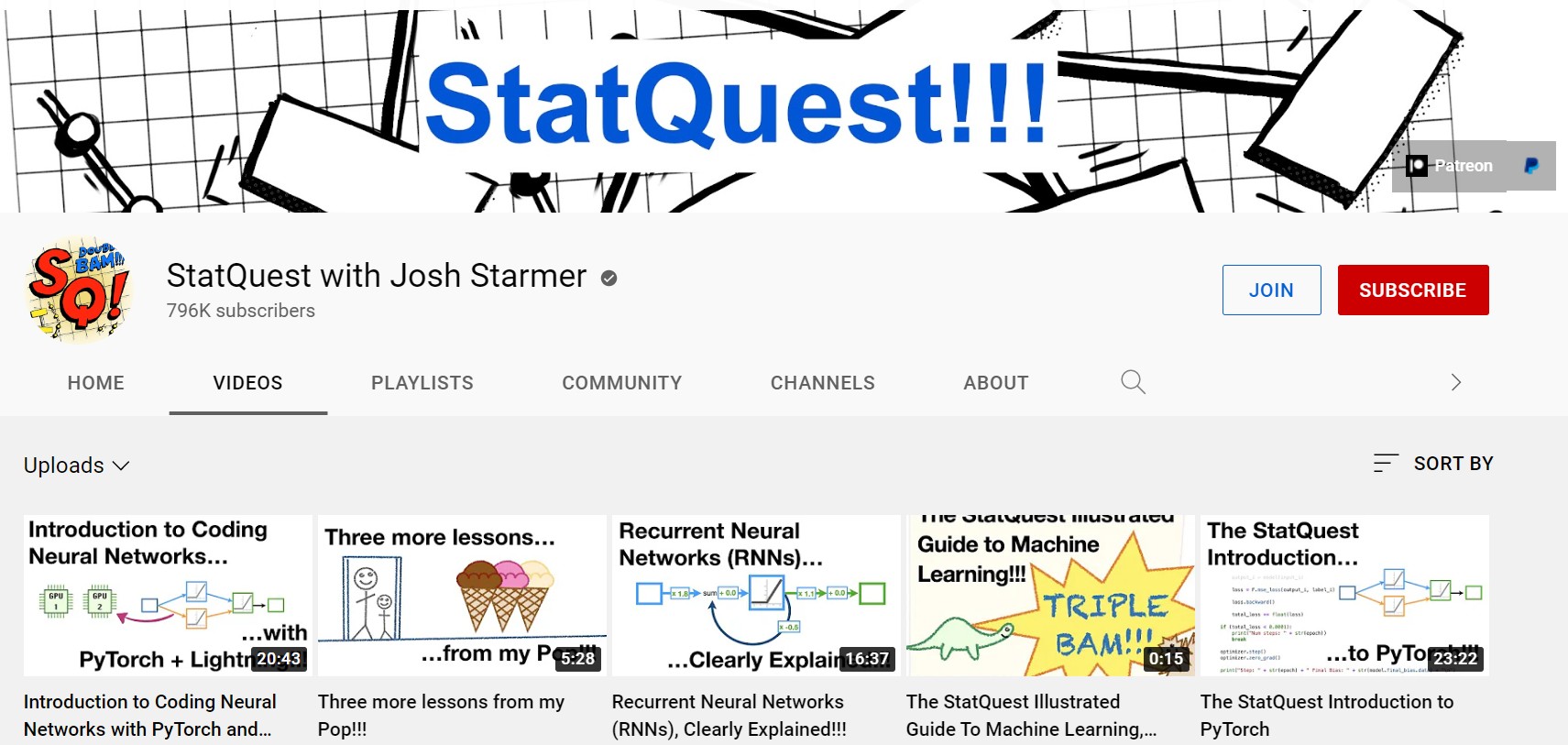 Josh Starmer founded the StatQuest YouTube channel. He is a data scientist with expertise in deep learning and machine learning. His films are incredibly educational, and he frequently offers viewpoints you won't find elsewhere.
You ought to watch StatQuest since Josh speaks in a comprehensible manner. It is simpler to grasp what he is saying because he speaks slowly and clearly.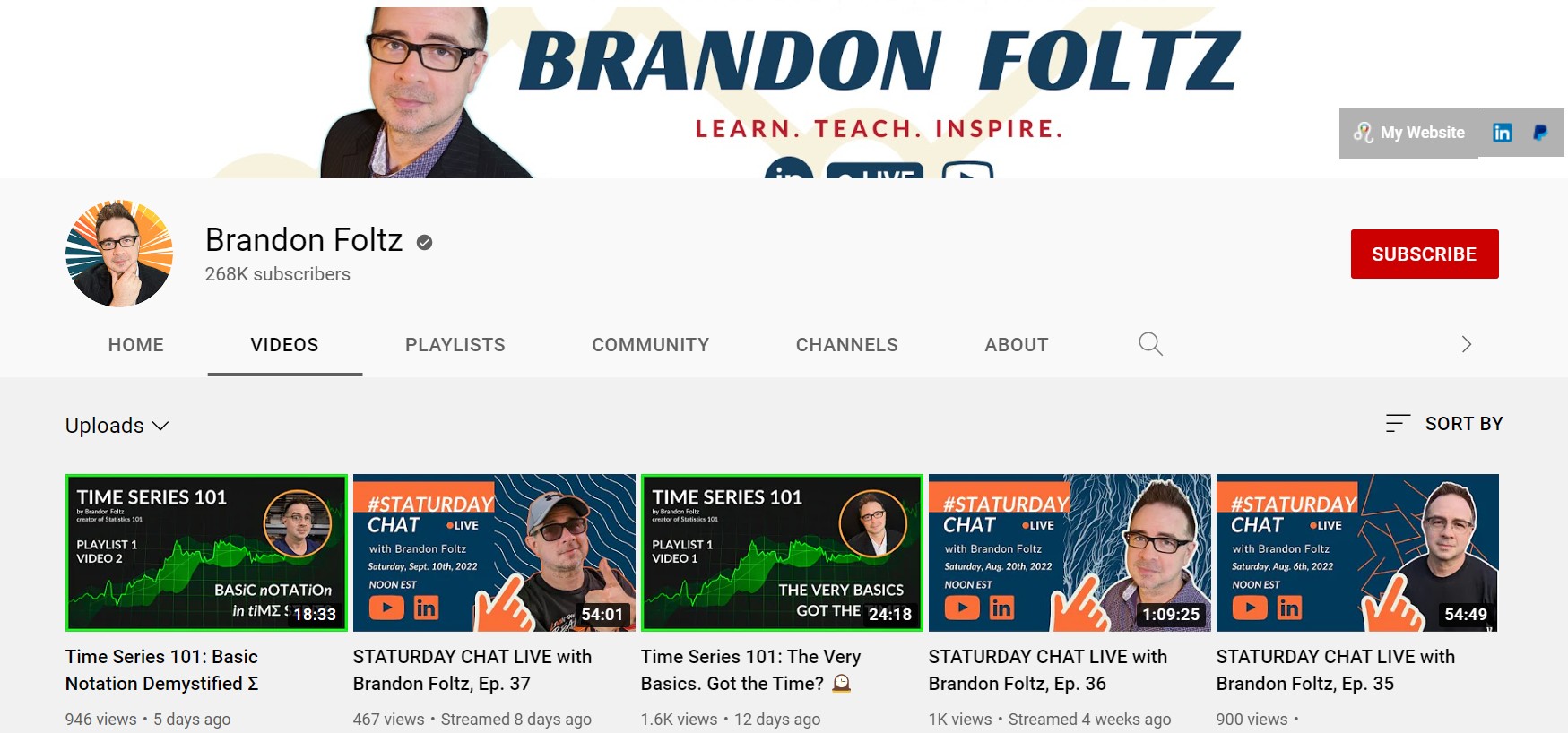 The channel offers videos that cover entire lessons on various subjects, including management science, operations management, statistics, and basic accounting. In easy-to-digest videos, Brandon Foltz also covers linear, non-linear, logistic, probability, model building, and other concepts relevant to data science, mathematics, and statistics.
He strives to be the best educator by sharing his learning experience, design work, and youtube videos.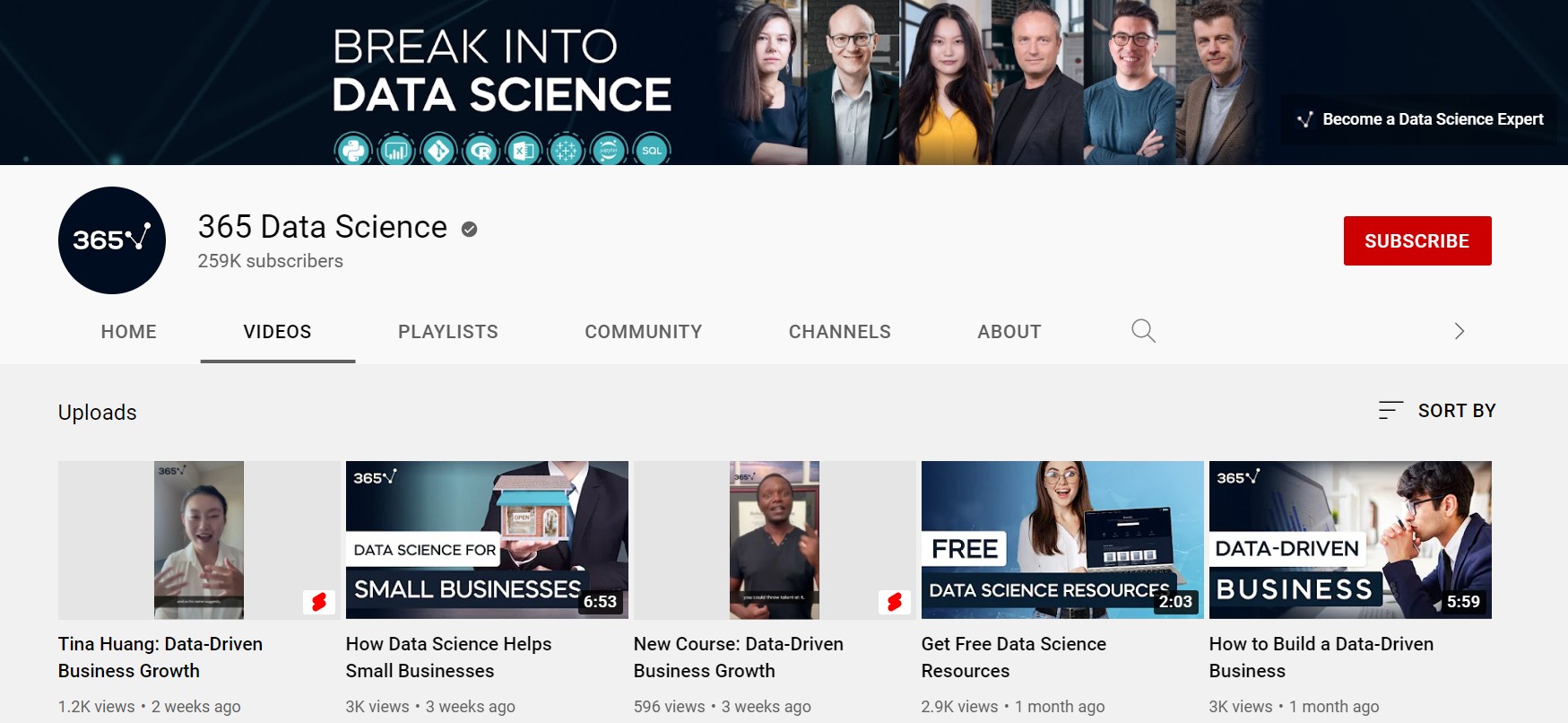 The 365 Data Science Program assists working professionals and students in starting careers as business analysts, data analysts, and data scientists. The need for trained specialists in the sector is more significant than ever, but most needs cannot be met by standard degrees due to their cost, length, or rigidity. With the goal of reducing the disparity, 365 Data Science offers excellent, reasonably priced training to help motivated people around the world take advantage of new opportunities.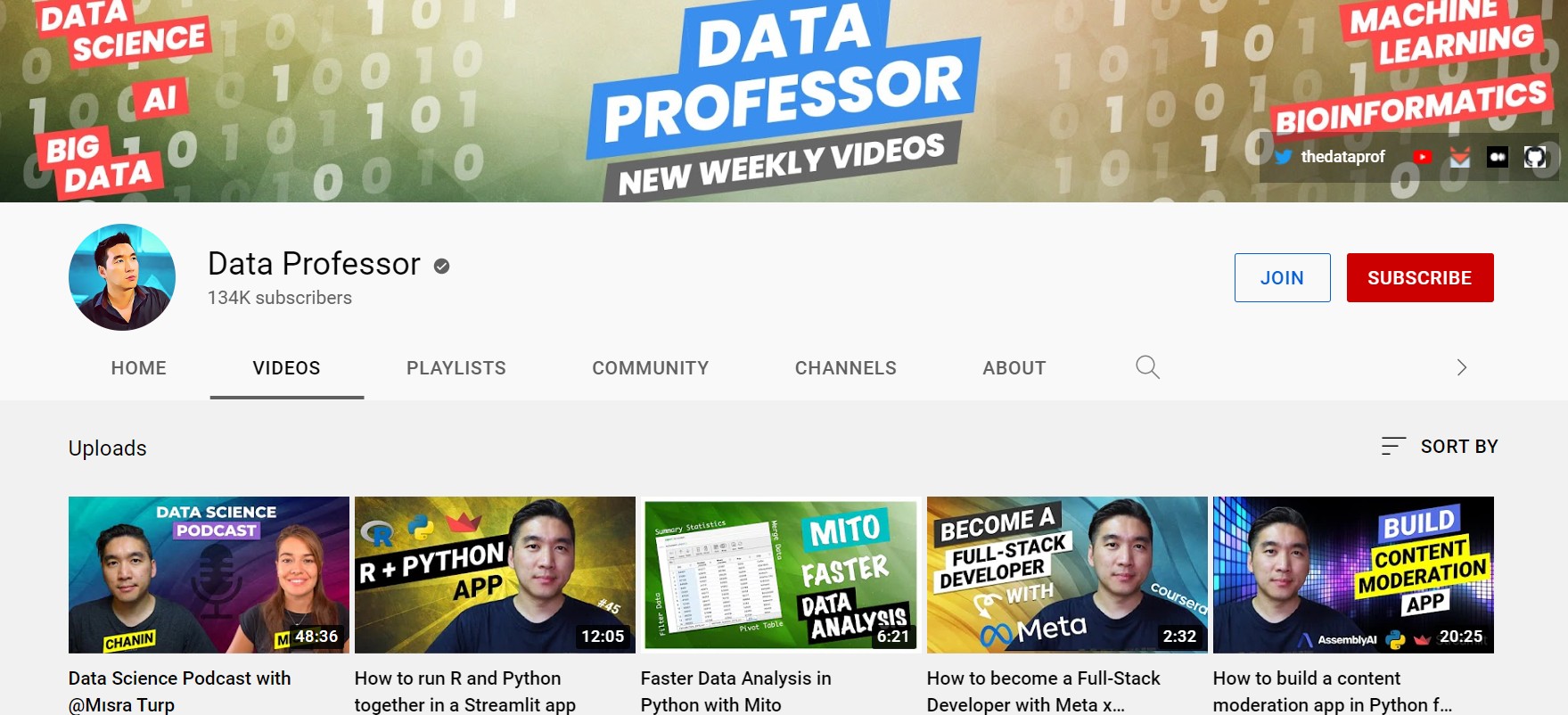 At a research university, Chanin Nantasenamat, Ph.D., is an Associate Professor of Bioinformatics and the director of a research lab that uses data science to unlock the secrets of big data in medicine.
In data science, Chanin has more than 15 years of expertise (as applied to bioinformatics). His enthusiasm for educating students and data lovers about data science and how it may be applied to make sense of data is extended through the Data Professor YouTube channel.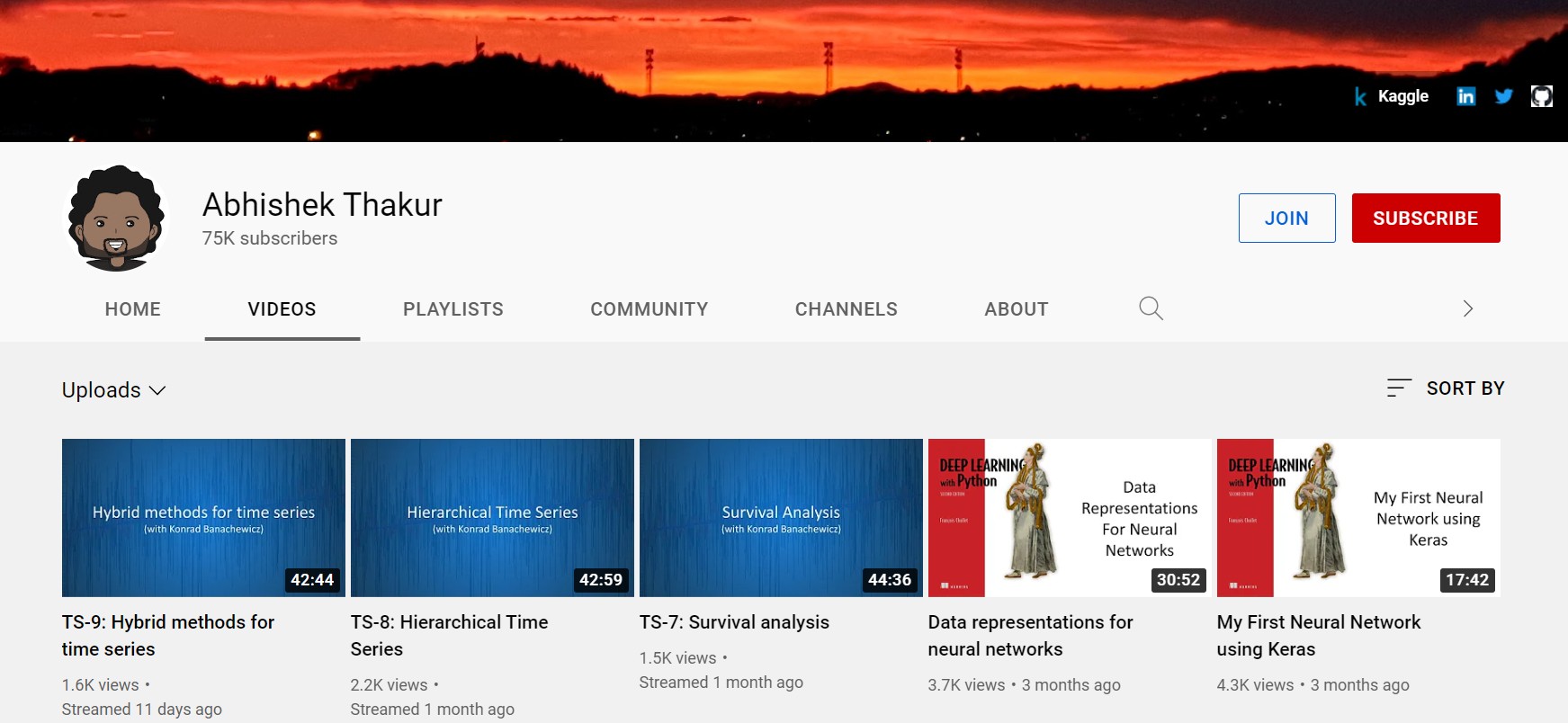 Abhishek Thakur is one of the most renowned data scientists in India. Instead of theoretical considerations, his main focus is applied machine learning and deep learning. Early in 2014, he earned his master's degree in computer science from the University of Bonn. He has since worked in various fields, concentrating his research on autonomous machine learning. He also participated and excelled in machine learning challenges and placed third globally on the well-known website Kaggle.
He shares his invaluable experience and knowledge on his YouTube channel, covering a diverse range of data science and machine learning topics.
Conclusion
These YouTube channels are a wonderful place to start if you want to learn more about data science. Online resources abound, but it might be challenging to choose the best one. There are plenty of other options available, so don't feel constrained by this list.