What is a Cloud Access Security Broker (CASB)?
Vijay Sharma
— Published On August 23, 2022 and Last Modified On May 9th, 2023
In today's digital age, cloud computing is an integral part of our lives, allowing us to access data and applications from anywhere at any time. However, as convenient as it may be, this level of accessibility comes with inherent risks. Cloud Access Security Broker (CASB) is an innovative solution to address these security concerns and mitigate data breaches. In this article, we will explore what CASB is, its benefits, and how it works to keep your data secure in the cloud. Whether you're a tech-savvy individual or a business owner, understanding CASB is crucial to protect your sensitive information in the digital realm.
This article was published as a part of the Data Science Blogathon.
What are Cloud Access Security Brokers (CASB)?
CASB is an application that secures and manages data stored in the cloud. It extends security management from on-premises infrastructure to the cloud, helping enforce security, compliance, and governance policies. It can be hosted on-premises or in the cloud. To ensure comprehensive cloud security, it's crucial to choose the right cloud provider and implement the right strategy using tools, processes, policies, and best practices. It's also important to understand overall responsibilities and focus on compliance. Employees and cloud providers are often overlooked aspects of cloud security. Cloud computing is as secure as deploying services locally, and many cloud providers offer advanced security features. Choosing the right vendor can improve your security posture and reduce risks.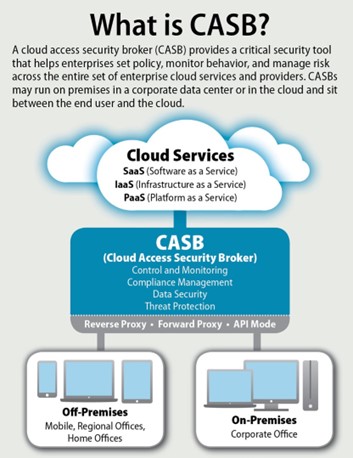 Importance of Cloud Access Security Broker
CASBs are important tools for implementing cloud security best practices. They act as software between you and your cloud service provider to enforce security controls in the cloud. CASBs offer a wide range of cloud security tools that provide visibility into the cloud ecosystem, data security policy enforcement, threat detection and protection, and compliance.
It includes both local and cloud resources, including personal gadgets like mobile phones. Previously, it took a lot of work for corporate security managers to understand how their companies protected data. CASBs act as an intermediary cloud access security service, allowing businesses to include unmanaged devices such as personal phones in their networks. However, this also increases the risk to the endpoint portfolio.
As cloud computing evolved, organizations needed a way to provide consistent security across multiple clouds and protect their data from being used. This is where cloud access security brokers became indispensable, providing businesses insight into their SaaS usage and other important data elements.
Cloud Access Security Broker Model
To optimize the adoption of the cloud, people and corporations should be able to collaborate without limits, working safely across the cloud, web, devices, and locations. A decent Cloud Access Security Broker (CASB) platform should provide the deepest visibility into cloud and web transactions so IT security teams can make informed policy decisions to scale back risk.
The platform should also enable enterprises to secure sanctioned and unsanctioned cloud services, protect sensitive data across the cloud and web and stop even the foremost advanced online threats. Essentially a simple CASB solution should empower organizations to customize security designed in keeping with how the corporate work without slowing them down.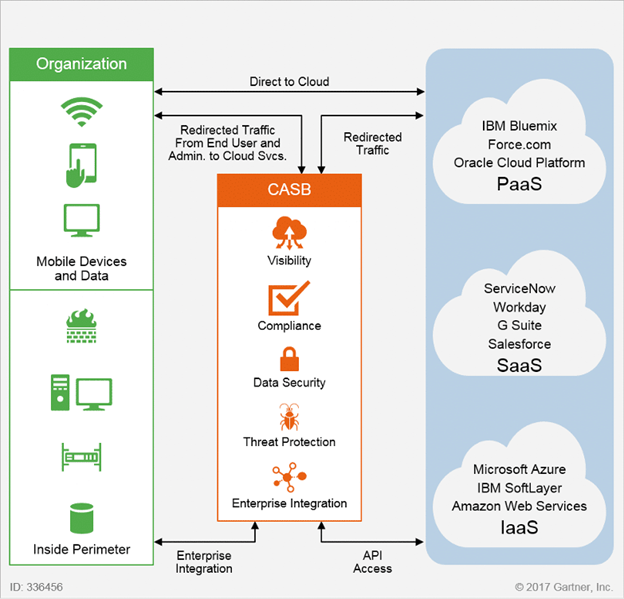 CASB protects against serious security threats in the cloud while enabling continuous monitoring and mitigation of high-risk events. This is achieved by protecting data moving between on-premises and cloud environments with your organization's security policies.
The CASB protects users from cyberattacks with anti-malware and end-to-end encryption to secure data to prevent external users from decrypting your content.
Also Read: What is Data Security? | Threats, Risks and Solutions
Features Selection for CASB Solution
Blind Spot Elimination – Ability to know all inputs (Logs, SaaS, IaaS, web) in extreme definition and performs big data analytics on details including user, group, location, device, service, destination, activity, and content in real-time. This helps enterprises eliminate the blind spots legacy vendors can't see and make policy enforcement simple across thousands of SaaS and IaaS services and immeasurable websites.
Guard Data Everywhere – Protect and guard sensitive data through DLP and encryption across SaaS, IaaS, and the web. The answer should be equipped with intelligence to cut back your inspection area and advanced DLP methods like exact match and fingerprinting to extend detection accuracy. In-built, the cloud, with the flexibility to figure no matter location or device, handles the direct-to-cloud and direct-to-web traffic that others miss.
Stop Elusive Attacks – Built-in advanced threat protection to prevent elusive attacks across SaaS, IaaS, and the web. in-built the cloud and filled with real-time and deep detection engines, with the ability to seek out malware and ransomware that legacy tools miss. Proactive threat intelligence and powerful workflows to quarantine malicious files and reverse the results of an attack.
Full Control – SaaS, IaaS, and web security platform built from the beginning in one cloud that's easy to use. Unlike cobbled-together tools, the CASB solution should eliminate policy conflict through standardized categories across SaaS, IaaS, and the web. Save your security team's time by avoiding redundant DLP and threat protection configuration steps and changing from one tool to the next. An answer built on the cloud would also ensure that it scales automatically to satisfy your needs.
How Does a Cloud Access Security Broker Work?
CASB works by ensuring that traffic flows between cloud providers and on-premises devices comply with your organization's security policies. In recent years, CASBs have been in high demand due to their ability to provide valuable insights into cloud applications' usage across various platforms. This is especially useful in regulated industries.
Typically, cloud access security brokers use auto-discovery to display all cloud applications. This identifies high-risk applications, users, and other key risk factors. Brokers can secure an organization's network by applying various security access controls, such as device profiling and encryption. It can also provide additional services, including credential matching, when single sign-on (SSO) is unavailable.
CASBs can be deployed in three ways: reverse proxy, forward proxy, or "API mode." Each has its advantages and disadvantages, and many industry experts recommend multimode deployments.
Let's take a closer look at the different CASB deployment modes.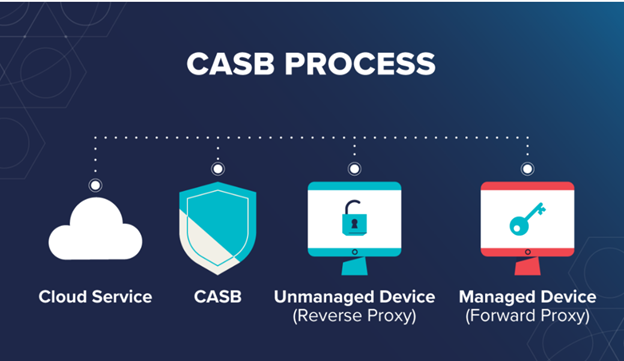 Reverse Proxy: The Reverse Proxy sits in front of the Cloud Service to provide built-in security while in the path of network traffic. A reverse proxy broker connection goes from the Internet to the application server, hiding information from the source behind it.
Forward Proxy: The Forward Proxy sits in front of you, and the CASB proxy traffic to multiple cloud platforms. Forward proxy connections go to the Internet behind a firewall. Like the reverse proxy, it also provides built-in security features.
API Mode Unlike: proxy deployments, application programming interfaces (APIs) allow CASBs to integrate with cloud services directly. This allows you to secure both managed and unmanaged traffic. You can view activity and content and take enforcement action based on Cloud Provider API capabilities.
How to Use CASB?
To effectively monitor network traffic, you need the Cloud Access Security Broker service built with your organization in mind. A CASB implementation should start with your organization's portfolio's most appropriate cloud application. This is the application with the most sensitive data and, therefore, the highest risk. Choosing a CASB that provides API-level support for cloud applications is equally important.
Enterprise Security Administrators must decide whether to integrate their organization's CASB with an existing SSO or IAS system. This allows you to choose a cloud access security brokerage service to support this integration. You also need to decide which CASB mode your organization needs. In this regard, you can choose the reverse proxy mode, forward proxy mode, or both.
Steps to Implement CASB
Start with the most important cloud applications in your portfolio.
Find a CASB that provides API-level support for this cloud application. 
Decide whether you want to integrate the CASB with your existing IAS or SSO system.
Choose a CASB that supports these integrations.
Determine which CASB mode is required (forward proxy, reverse proxy, and both).
Balance the cost of the CASB with the benefit to your security profile.
Functional Pillars of Cloud Access Security Broker
CASB provides features that fall into four "pillars," including: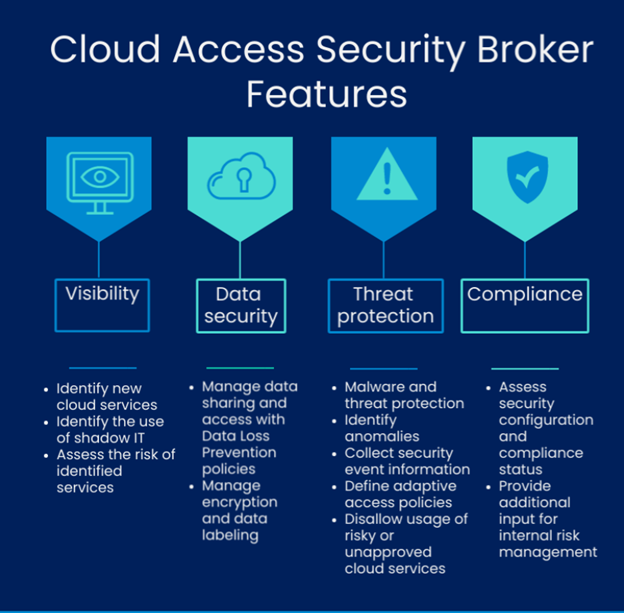 Visibility
When a cloud application sits outside the view of your IT department, you create information uncontrolled by your business' governance, risk, and compliance processes. A CASB gives you visibility of all cloud applications and their usage. Including vital information on who uses the platform, their department, location, and the devices used.
Data Security
The cloud platform increases the risk of inadvertently exchanging data with the wrong person. When using cloud storage, regular data loss prevention (DLP) tools cannot track or control who has access to your data. The CASB brings data-centric security to the cloud by combining encryption, tokenization, access control, and information rights management.
Threat Prevention
One of the most difficult security threats to protect employees. Ex-employees who are disconnected from an organization's core systems can still access cloud applications containing business-critical information. The CASB can detect and respond to malicious or inattentive internal threats, privileged users, and compromised accounts in your cloud infrastructure.
Compliance
As data moves to the cloud, industry and government regulations require that data be kept secure and private. CASB defines and enforces DLP policies for sensitive data in cloud deployments.
What are CASBs used for in Security?
CASB solutions have a variety of capabilities to protect your cloud data. Below is an excerpt from the Gartner article How to Secure Your Cloud Applications with a Cloud Access Security Broker.
Cloud Application Discovery and Risk Assessment
Adaptive Access Control
Data Loss Prevention
User and Entity Behavior Analytics
Threat Protection
Client-Side Encryption (Including Integration with Digital Rights Management)
Pre-Cloud Encryption and Tokenization
Bring Your Own Key (BYOK) ) Encryption Key Management
Monitoring and Log Management
Cloud Security Status Management
Top 5 Cloud Access Security Brokers
The CASB market has exploded due to the large-scale migration of services to the cloud combined with the need to implement cloud security due to the significant risk of leakage and data loss.
The CASB is a next-generation technology that has become an important component of your cloud security strategy. According to the Gartner Magic Quadrant for Cloud Access Brokers, 1 in 5 large enterprises uses CASBs to secure or manage cloud services.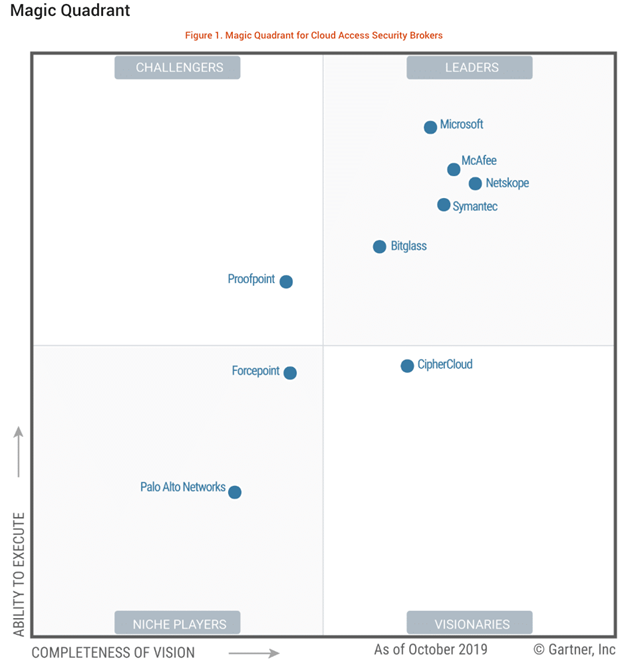 Gartner identified five CASB market leaders in its Magic Quadrant, including:
McAfee
McAfee entered the CASB market in January 2018 and gained notoriety by acquiring Sky-high Networks. The platform, now known as MVISION Cloud, provides coverage across CASB's four pillars for a wide range of cloud services.McAfee has also made an on-premises virtual app available for those that require it.
Microsoft
The Microsoft CASB product is called Microsoft Cloud Application Security. The platform supports multiple deployment modes, including reverse proxy and API connector. Microsoft continues to develop CASB solutions with improved visibility, analytics, data control, and innovative automation capabilities. Microsoft Cloud Application Security also integrates seamlessly with Microsoft's growing portfolio of security and identity solutions, including Azure Active Directory and Microsoft Defender Advanced Threat Protection. This enables Microsoft to provide customers with a fully integrated solution for the Microsoft platform through one-click deployment.
Netskope
Unlike many players in the field who simply acquire CASB solution providers, Netskope remains an independent company. This provider is known for its excellence in application discovery and SaaS security assessments. Netskope supports thousands of cloud services with built-in decoding of published and unpublished APIs. CASB provides DLP and combines threat intelligence, static and dynamic analysis, and machine learning-based anomaly detection to detect threats in real-time.
Symantec
Symantec CASB's CloudSOC offering expanded in 2016 with the acquisition and integration of Blue Coat Systems' Perspecsys and Elastica products.CloudSOC provides its cloud API, real-time traffic processing, and DLP with automatic data classification and multi-mode control using inputs from multiple data channels. Advanced User Behavior Analysis (UBA) can automatically detect and remediate threats inside and outside your organization.
Bitglass
Bitglass Cloud Security is a next-generation CASB that integrates with any application, device, or network. The platform runs natively in the cloud and is the only provider of enterprise data protection on mobile devices without using agents or profiles. Bitglass has gained notoriety for implementing a zero-day approach that focuses on trust scores, trust levels, and data encryption at rest.
Top Cloud Security Certifications
Successfully securing a cloud platform requires advanced cloud security skills and knowledge. You will also need to learn platform-specific skills to configure access, network security, and data protection within your chosen cloud provider.
Fundamentals of Microsoft Azure is a comprehensive online course that covers the basics of cloud computing and Microsoft Azure's key concepts. The course offers hands-on experience in Azure's core services, including storage, computing, and networking, enabling learners to create and deploy cloud solutions. It is designed for beginners and IT professionals seeking to upskill in cloud computing.
The Fundamentals of AWS course provides an introduction to Amazon Web Services (AWS) for beginners. It covers various AWS services, including EC2, S3, RDS, and DynamoDB, and teaches learners how to work with them. By the end of the course, learners will have a strong foundation in AWS and be able to deploy and manage cloud applications.
Do's and Don't of Selecting a Cloud Access Security Broker
In summary, here are some do's and don'ts that we found useful after evaluating various CASB decisions.
DOs
Decide which cloud services and platforms you have.
Ask your vendor to plan your solution development to see what's next.
Request a referral to an organization of the same type that you manage. 
Check out the link and ask about your experience
Perform proof of concept/proof of value with the selected vendor.
DON'Ts
Rely too much on publicly available materials, vendor specifications or marketing materials, or other estimates that are more than a year old. A booming market has likely rendered them obsolete. 
Only rely on recommendations. In most cases, performing an RFI with a single vendor is the best way to ensure that a solution meets your needs.
End Note
While some of the CASB's capabilities include familiar approaches and techniques previously used to protect data in on-premises applications, CASBs are different and unique technologies. Different from web application firewalls, corporate firewalls, and secure web gateways. When it first appeared, the cloud access security broker service was considered by many to be the cloud surveillance solution that many people discovered Shadow IT.
However, CAB now offers a wide range of capabilities across core compliance, data security, threat protection, and transparency. The growing popularity of using cloud computing in enterprises and the maturation of cloud access security brokerage services have led to increased adoption of enterprise-level software.
Identify and categorize Shadow IT cloud services that are in use, employees using them,

and the risks

they pose.
Evaluate and choose cloud services that match internal and industry security and compliance standards
Safeguard enterprise data stored

within the

cloud by preventing specific

kinds of

sensitive data from getting uploaded, besides tokenizing and encrypting data.
Identify the possible misuse of the organization's cloud services. This includes unauthorized activities by insiders and third parties,

which may

compromise user accounts.
Implement different levels of cloud service functionality and data access

supported

users' devices, operating systems,

and placement

.
Frequently Asked Questions
Q1. What does CASB do?
A. CASB enforces security controls in the cloud by providing a comprehensive set of cloud security tools that provide visibility into the cloud ecosystem, data security policy enforcement, threat detection and protection, and compliance.
Q2. What does CASB stand for?
A. CASB stands for Cloud Access Security Broker.
Q3. What are the 4 pillars of CASB?
A. The 4 pillars of CASB are visibility, compliance, threat protection, and data security.
Q4. What is cloud access security broker in Cisco?
A. Cloud Access Security Broker in Cisco is a cloud-delivered security solution that provides visibility and control for cloud applications, including SaaS, PaaS, and IaaS.
Q5. What are the 3 deployment models of cloud access security broker?
A. The 3 deployment models of cloud access security broker are inline, API-based, and reverse proxy.
The media shown in this article is not owned by Analytics Vidhya and is used at the Author's discretion.