Snapchat Brings "My AI" Chatbot to All Users, Enhances Features
Snap CEO Evan Spiegel recently announced its AI chatbot, "My AI," will be available to all of Snapchat's 750 million monthly users for free. Previously, the chatbot was only accessible to over 3 million paid subscribers. This move follows less than two months after the OpenAI-powered bot was initially offered to subscribers.
Integration of My AI with Snapchat Features
As My AI becomes more integrated into Snapchat, users can now add it to group chats by mentioning it with an '@' symbol. Snap also lets users personalize their bots with custom Bitmoji avatars and unique names. Furthermore, My AI now has the ability to recommend AR filters for Snapchat's camera or suggest locations to visit using the app's map tab. Snap is working on enabling users to send visual messages to My AI and receive generated responses. For example, a photo of tomatoes in a garden could prompt the bot to respond with a generated image of gazpacho soup.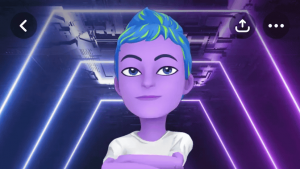 A Creative Tool for Users
Evan Spiegel views the AI technology as an "awesome creative tool" that enhances user experience. Spiegel has personally used My AI to create bedtime stories for his children and plan a birthday itinerary for his wife, Miranda Kerr. More than 2 million chats per day are already taking place with My AI.
Spiegel describes Snap's relationship with OpenAI, which provides My AI's foundational large language model, as a "close partnership."
Also Read: Bring Doodles to Life: Meta Open-Sources AI Model
Experimentation and User Experience
Snapchat users were notified on Wednesday that "My AI" is an experimental chatbot. While conversations with friends remain private, any content shared with "My AI" will be stored in the app's database. The chatbot may use this shared information to improve Snap's products and personalize their experience, including ads. However, the user may choose to delete the stored data at any time.
The latest updates to "My AI" on Snapchat allow users to name their personal AI bot. They can create a personalized "Bitmoji" and also send their Snapchats to "My AI" to receive a chat reply. Moreover, they can also include the bot in group conversations by using the '@' symbol to mention it and ask a question on behalf of the group. "My AI" is also capable of providing recommendations from the Snap Map and suggesting the perfect lens for a photo.
According to a help page on Snapchat, only Snapchat+ subscribers can remove "My AI" from their chat feeds at present.
Striving for Improvement and User Safety
In its press release, Snapchat acknowledged that significant progress has been made on "My AI" since its launch in February. The chatbot is developed to adhere to community guidelines and prevent inappropriate or harmful content. It uses moderation technology to maintain user safety and also has a new-age signal that considers a user's birthdate.
Also Read: Data Security in the AI Era | Expert Opinion
Our Say
Snapchat has recently launched an OpenAI-powered chatbot. As AI technology continues to advance, Snapchat's My AI chatbot demonstrates the potential of AI-powered tools to enhance user experience, foster creativity, and facilitate engagement among users. It also shows that AI chatbots and platforms can be made safe for users.