Apple to Launch AI-Powered Health App With Emotion Tracking and More
Apple is continuing its push into the health and wellness market with a new artificial intelligence (AI) powered health coaching service named Quartz. Apple's AI-powered healthcare app will be featured in the upcoming Apple Watch and iPhone models.
The new service will motivate users to exercise, improve their eating habits and sleep better by making suggestions and creating coaching programs tailored to specific users. Apple Watch data will combine with AI to offer personalized support.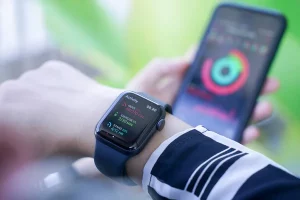 The Quartz Initiative
The Quartz initiative resembles LumiHealth, which Apple launched with the Singapore government in 2020. However, unlike the Singapore-based program that paid monetary awards to users who stayed healthy, Apple's Quartz program will carry a monthly fee and be its own app. The service is planned for next year, contingent upon the completion of the project.
In addition to the Quartz initiative, Apple plans to roll out an iPad version of its iPhone health app for the first time. The change, set to be included in iPadOS 17 later this year, will allow users to see electrocardiogram results and other health data in a larger format. The company hopes that the iPad version will increase the app's popularity, particularly in healthcare settings where they already use tablets.
Also Read: AI Tool Detects Fake Sick Leave with 70% Accuracy: Know How
Emotion Tracking Technology & Mixed Reality Headset
Apple is also adding tools for tracking emotions and managing vision conditions such as nearsightedness to the health app this year. The emotion tracker's initial version will focus on collecting data from users to create a database. Users will be able to log their moods, answer questions about their day, and monitor the results over time. In the future, Apple hopes the iPhone could use algorithms to determine a user's mood through their speech, the words they type, and other data on their devices.
Apple's upcoming mixed-reality headset, set to debut in June, will also play into the company's health and wellness strategy. The device will also come with a meditation feature. Moreover, an optimized version of Apple's Fitness+ workout service is still under development.
Blood-Pressure Monitoring
Furthermore, Apple is planning to extend its health push by introducing a basic form of blood-pressure monitoring to its watch in the coming years. Although the feature may not likely show exact diastolic and systolic numbers, it would warn an Apple Watch wearer if they may have hypertension. The device would then direct the user to try a conventional blood pressure monitor or go see a doctor.
Also Read: ML Model Predicts Insomnia With Considerable Accuracy
Glucose Monitoring Technology
Apple is also developing noninvasive glucose monitoring technology, with sensors rather than finger pricks, which has been in development for over a decade. Recent advancements have allowed the company to shrink the system down into a device the size of an iPhone. The long-term goal is to make the technology even smaller so that it can fit inside a future Apple Watch.
Also Read: Revolutionary AI Tool Developed to Diagnose Childhood Blindness
Our Say
Apple's continued focus on health and wellness shows the importance the company places on this market. With new initiatives such as Quartz, emotion tracking, and glucose monitoring, users can expect even more personalized, data-driven healthcare solutions from the tech giant in the future.