Data Governance and Its Benefits
Gitesh Dhore
— Updated On October 10th, 2022
 This article was published as a part of the Data Science Blogathon.
Introduction
Today's fast-moving, ultra-competitive, and rapidly evolving business environment means that only the smartest, fastest, and most innovative businesses will rise to the top. However, such success is increasingly unattainable without a robust data management program. As today's average industry captures vast volumes of internal and external information, there is a need to leverage this data to maximize value, reduce costs and manage risk. Information management is a discipline that helps businesses do just that.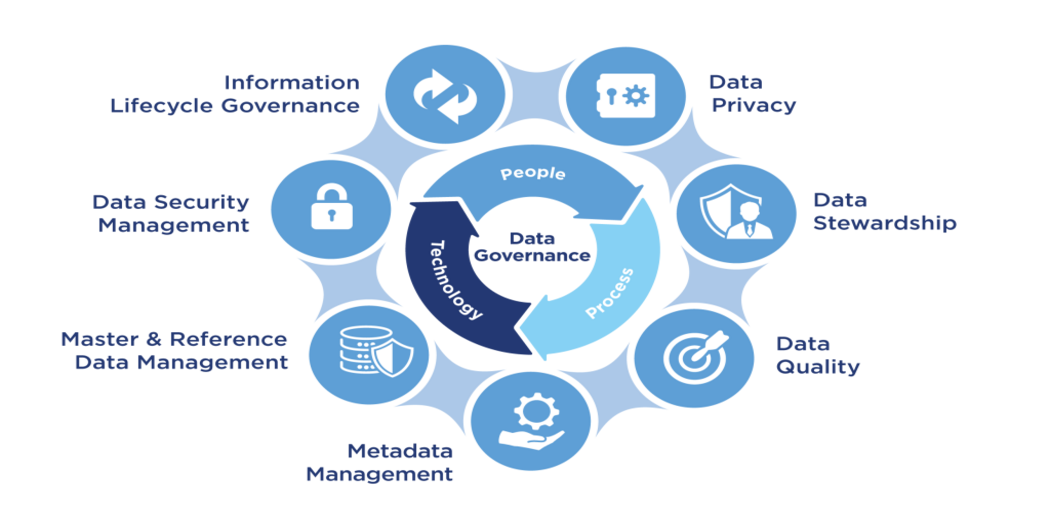 For many organizations, there is not just one enterprise data repository. Increasing complexity, Big data, unstructured data, information diversity, and operational intelligence create a business environment with many moving parts that require a thorough and consistent overarching data processing strategy.
What is Data Governance?
Data governance is a set of standards, processes, policies, and roles that ensure the effective and efficient use of information to support an organization in realizing its goals. In simpler words, information governance is a framework that helps organizations better manage data assets.
Establishes responsibilities and processes that ensure data security and quality across the organization. Data governance clarifies who is authorized to take what actions, on what data, under what circumstances, and using what techniques. A well-thought-out information management strategy is essential for all businesses, including those that work with big data.
For example, businesses need to know and understand what the term "customer" means in different contexts and what understanding that term in each context means for managing customer data.
Data Governance Benefits
The benefits of data governance include providing better data quality, lower data management costs, better access to needed data across the organization, lower risk of introducing errors, and ensuring that clear rules around data access are established, enforced, and enforced. Complied with. Data governance brings a wide range of benefits to the business. These include:
Minimize risks
Violations of the quality, security, privacy, integrity, availability, and reliability of business data carry significant risks. First, the organization's operations are at risk if the information on which decisions are based is not at the required level. Second, there is the threat of regulatory action if a business is found to have violated vital laws such as GDPR and HIPAA. Third, the company's reputation can be destroyed as customers and employees begin to distrust the data. Data governance reduces risk by systematically addressing key risks that could threaten the business due to data mishandling.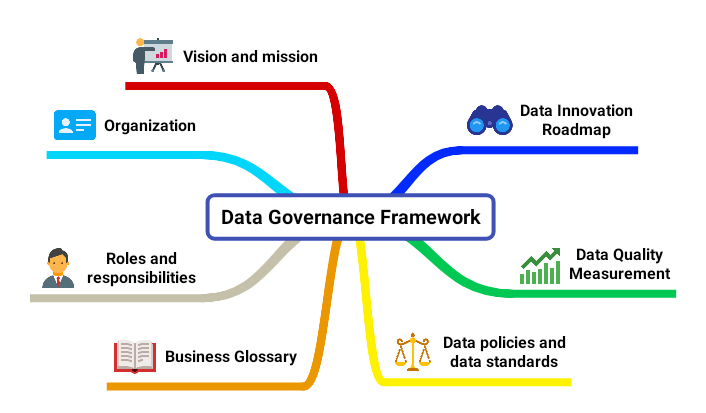 Uniform understanding of data across the enterprise
The median organization today captures, stores, and manipulates vast and complex amounts of data. This data is captured through dozens, hundreds, or thousands of interfaces spread across different business units. It is relatively easy for each business unit to be drawn into a silo and create its definition, understanding, and classification of the data it uses. This only leads to conflict during data transfer.
It harmonizes the understanding of data by creating a common terminology that is applied uniformly across the organization.
Improved data quality
Data drives business decision-making. Poor data quality inevitably leads to poor decisions. For example, think of a business whose primary target is baby boomers and trying to establish a presence in a city where it has not been. Some data she needs to know she's making the right decision is the population of Boomers in said city. If the data it relies on is outdated or incorrect, then any decision made using it will be inherently flawed.
Data governance creates a work environment that ensures data consistency, completeness, and accuracy.
Data mapping
There are so many interfaces in which data is created or received in an organization that, over time, it can be difficult to get a clear idea of ​​what information a company has under its control.
Information management gives businesses the ability to map the location of all data. This makes data assets renewable, usable, easy to integrate, and more easily connected to strategic outcomes.
Consistent compliance
Data governance improves customer experience, reduces operational costs, and increases revenue and efficiency. For many organizations, information governance initiative is primarily driven by the need for compliance. The actual data regulations to which a business is subject will vary by industry and jurisdiction.
Regulations and standards may include GDPR, HIPAA, SOX, and PCI DSS. Penalties for non-compliance can be severe. In the case of repeated violations, it may lead to the withdrawal of the business license.
Improved data management
Data governance and data governance are often used interchangeably, but data governance is a subset of data governance. A good information management framework brings a human touch to a highly automated world and technology-driven and
This Puts best practices and code of conduct for data management that go beyond the traditional excessive focus on system controls. Ensures consistent and comprehensive application of data management compliance, security, and legal areas.
Better and faster reports
A data governance implementation exercise helps to streamline and organize business information. Such an organization not only improves the data quality but also leads to better and faster reports.
The distributed, irregular, inconsistent, and diverse nature of business data can often make it difficult to gain compelling insights. It is not unusual for the process of generating the business report to take hours or even several days simply because of the formatting and harmonization that needs to be done effectively.
Information management forces the consolidation and integration of data to accelerate the acquisition of insights.
Better collaboration
A business can have great employees. However, having great employees doesn't necessarily mean an efficient department. And an individually effective department does not always translate into an effective organization. The better collaboration between departments, the better the quality of the overall work output of the organization.
Implementing a data governance initiative means breaking the walls between departments and fostering a coordinated approach to data processing. Even when implementing a data management framework is complete, the established channels of collaboration and camaraderie between departments are likely to persist long after.
In addition, high data quality and consistent data handling across the enterprise will remove many previously existing friction points.
Increased data value
In the last decade or so, businesses have begun to value the place of data as business assets in the same breath as buildings, cars, cash, and employees. However, the value of business data lies in its ability to effectively move the business toward its strategic goals.
The data governance framework improves the quality of data and therefore makes it more beneficial to the company.
Reduced costs
Mismanaged and mismanaged data increases business costs in a number of numbeseveralIll-considered strategy, inter-departmental conflicts, flawed models, ill-informed product development, and poor plannings are examples of various ways poor data can drive decisions that end up costing a company dearly.
Information management improves the quality of business data, thereby eliminating unnecessary expenses that the business would otherwise incur.
Tools for Data Governance
Information management is not just about technology, but it is virtually impossible to implement data management in any meaningful way without some reliance on IT systems. After all, most business data today is stored electronically. There are many information management tools to choose from. Their price and functionality vary widely.
In addition to looking at basic considerations such as your budget, there are several aspects that you need to pay attention to ensure that you choose the most suitable data management technology, which includes scalability, compatibility with existing systems, quality of customer support, and reviews from previous users.
1) Integrate.io
It is data integration, ETL, and ELT platform. It is a cloud-based solution for creating simple and visualized data feeds into your data warehouse. It provides functions for integrating, processing and preparing data for analysis in the cloud. The platform allows you to implement ETL, ELT, or replication solutions.
It is an elastic and scalable platform that can run simple replication jobs and complex transformations. You can organize and schedule data feeds with the help of the Integrate.io workflow tool.
2) Alation
Aation pioneered the data catalog market and is now leading its evolution into a platform for a large range of data intelligence solutions, including data search and data management, genealogy, discovery, stewardship, analytics, and digital transformation.
With its powerful Behavioral Analysis Engine, built-in collaboration capabilities, and open interface, Aation combines machine learning with human insight to successfully face even the toughest data and metadata management challenges. More than 250 businesses realize business results with Alation, including Salesforce, Cisco, Docusign, Finnair, Pfizer, Nasdaq, and Albertsons.
3) Dataddo
Pricing: Pricing starts at $20/data source/month. The Pro and Enterprise plans provide additional features such as free historical data loading, assisted connection, and more. Dataddo is a cloud-based, code-free ETL platform that provides us with technical and non-technical users with fully flexible data integration – it has a wide range of connectors and fully customizable metrics that allow users to quickly and easily create powerful data pipelines. Dataddo's intuitive interface and simple setup allow you to focus on integrating your data rather than wasting time learning the platform.
Conclusion
Implementing a data governance framework is not something you can do all at once. Instead, it is a complex and long-term process. This means there is a danger that participants and stakeholders will lose enthusiasm over time. If you want to make your project more exciting and understandable, you may want to use an agile project management method.
So break the initiative down into work stories and then identify the stories that have the highest priority. Iteratively execute these priority stories through an agile workflow until they meet the expectations of the information management framework. When you complete some work stories, accept new ones. This way, the management initiative will feel manageable and final.
Key business drivers will determine which stories and data need the highest priority. For example, if any one of the drivers of your data governance initiative is to ensure the protection of healthcare information (in compliance with regulations such as HIPAA and GDPR), then a one-word story would be to protect patient data during capture, storage, transport, and use.
The data governance board should make sure to ask all the right questions to business unit leaders and other stakeholders at the start of the initiative. This ensures that the project develops on the right basis and with a clear picture of the current state of management and the end goal of the initiative.
The media shown in this article is not owned by Analytics Vidhya and is used at the Author's discretion.